Self improvement
All I Need to Know...
Ask E. Jean: 25 Things Every Woman Should Know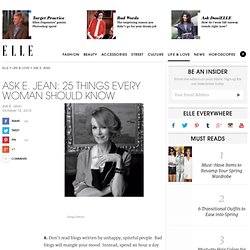 8. Don't read blogs written by unhappy, spiteful people. Bad blogs will mangle your mood.
1. True wisdom and insight is always free. 2. Give your power over to no one.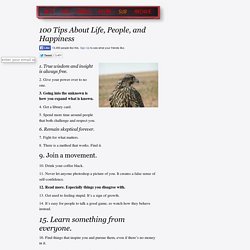 100 Tips About Life, People, and Happiness
How to Win Friends and Influence People by Dale Carnegie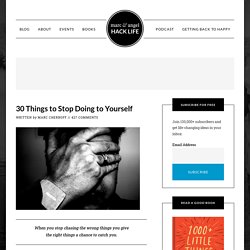 post written by: Marc Chernoff Email When you stop chasing the wrong things you give the right things a chance to catch you. As Maria Robinson once said, "Nobody can go back and start a new beginning, but anyone can start today and make a new ending." Nothing could be closer to the truth.
30 Things to Stop Doing to Yourself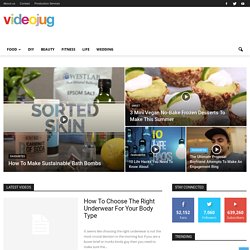 How To Make A Bridesmaid Paper Flower Hair Accessory Make your wedding budget go further by making your own beautiful paper flower hairpieces for your bridesmaids. In this e... Digital Photography Tips: Exposure, Shutter Speed And Aperture These digital photography tips give you a guide to the exposure, shutter speed and aperture of your digital camera. It ... London: 5 Best Shopping Areas London is a shopper's heaven, offering everything from world-famous department stores, to quirky street stalls, to speci...
Videojug - Get Good At Life. The world's best how to videos plus free expert advice and tutorials.
- StumbleUpon
Amazing Posts: Lifes Instructions
50 Tips for College Students | Psychology Today
I did the "extended tour" of college. From about 1991-2002. I did get 4 degrees, so at least I have an excuse. :) I've also been an adjunct professor, so I've also been at the other side of the classroom. 1) The Freshman Fifteen does exist. So does the Freshman Twenty. Watch how many starches and processed foods you are eating.
The purpose of this website is to help you grow as a conscious human being. This includes guiding you to discover and accept your life purpose; inspiring you to feel more motivated, energized, and passionate; helping you shed disempowering relationships and build a network of loving support; teaching you how to achieve stable financial abundance doing what you love; and encouraging you to make a genuine contribution to humanity -- so you can finally experience the kind of life that deep down, you always knew you were meant to live. You aren't here to struggle and suffer. You're here to express and share your creative gifts, to give and receive love, and to be happy. It will take time, but this site can certainly help you get there, and the vast majority of resources here are free. This site will help you make conscious decisions in your personal development journey and courageously follow through.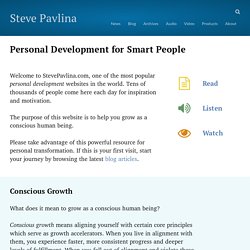 Personal Development for Smart People - Steve Pavlina