Music + social apps
Stats - Next Big Sound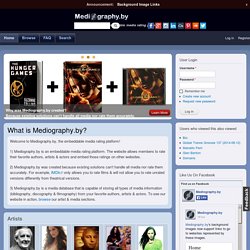 Tracks.by
Deep Facebook Integration Showcase your music, videos and tour dates on your Facebook page. Fans can listen, watch, share, comment and more.
Next Big Sound in the App Gallery on SoundCloud
Music Xray Lite Music Xray automatically matches your songs to industry opportunities. If you decide to submit any of your tracks to the industry professionals behind each opportunity, we guarantee they listen and that you get feedback on every submission, whether selected or not.
Music Xray Lite in the App Gallery on SoundCloud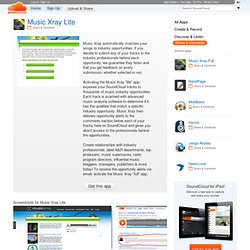 New Promotion
SoundCloud Labs
SoundCloud SoundCloud Labs showcases a number of experimental projects, features and apps all built using SoundCloud's platform. They're hosted here to give you a place to find some of our crazier, cutting-edge ideas and to show what our developer team gets up to when they're not sleeping. Please keep in mind that all apps are experimental and while we'll try to support them as best as possible, they come with no guarantees. Take a look around and let us know what you think.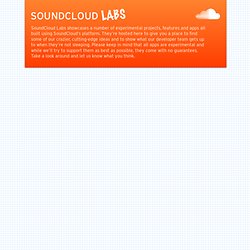 music | Conduit Apps
Mobile Roadie - iPhone et Android Apps pour tout le monde - Why MoRo?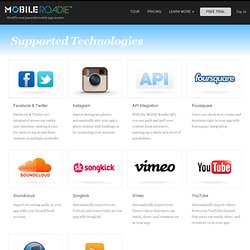 Facebook & Twitter Facebook & Twitter are integrated across our entire user interface, making it easy for users to log in and share content on multiple networks. Instagram Import Instagram photos automatically into your app's photo section with hashtags or by connecting your account.
The SoundCloud App Gallery - Featured Apps for mobile, desktop and the web.
soundcloud/soundcloud-social-download - GitHub
README.markdown SoundCloud-Social-Download This app allows you to distribute a free SoundCloud track download in exchange for a social interaction, such as Sharing on Facebook and Tweeting on Twitter.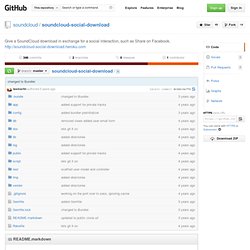 The Mac App Store is just like the App Store for iPad, iPhone, and iPod touch. So it's as easy to find and download Mac apps as it is to add your favorite magazine to iPad or a new game to iPod touch. You can browse Mac apps by category, such as games, productivity, music, and more. Or do a quick search for something specific.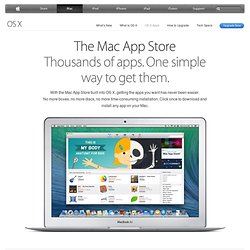 Gigkick is an iOS app to help you locate gigs in your area. You can check what's coming up locally from the map, or even scan you music library to see who's touring. It will also let you listen to music from the lineup, make playlists and check out the support act on the way there. You can even hook it up with your Songkick account. And best of all... it's free. What people are saying....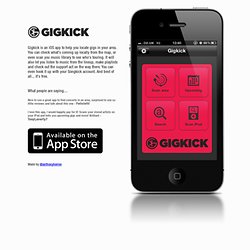 GigKick | find gigs on your iPhone…
Music apps FB Stats @Socialbakers
Pearltrees - Chromeless GoogStore
Mixcloud - Chrome GoogStore
SoundCloud - Chrome Web Store
SoundCloud Sounds in Google Mail™ - Chrome Web Store
Last.fm New Releases - Chrome GoogStore