ERGONOMIE
Notebook. I've been trialing the beta of Photoshop CS6 for almost a week now and I must say, kudos Adobe, you finally have listened to the masses.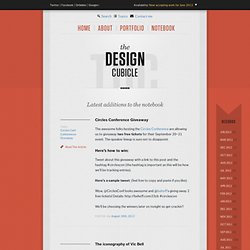 By far their best release to date, mostly due to features we've all been longing for: layer searching, layer styles on groups, copy and paste shape attributes, and paragraph and character styles (finally!!) – to name a few. Typography. With beautiful type comes great responsibility. Yesterday I happened to catch a glimpse of a tweet linking to an article titled, The Problem with Free Fonts, and as a typography fanatic I had to click and read.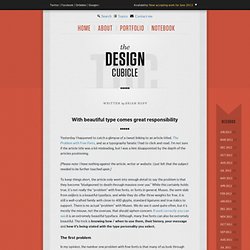 I'm not sure if the article title was a bit misleading, but I was a hint disappointed by the depth of the articles positioning. [Please note: I have nothing against the article, writer or website. I just felt that the subject needed to be further touched upon.] To keep things short, the article only went into enough detail to say the problem is that they become "bludgeoned to death through massive over use."
Structure de l'info - arborescence - STUDIO VITA. Si votre site web n'est pas bien organisé et que l'internaute ne trouve pas ce qu'il veut, il suppose que l'information n'existe pas.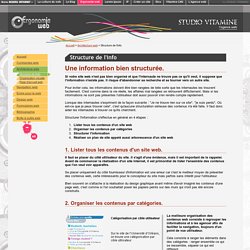 Il risque d'abandonner sa recherche et se tourner vers un autre site. Pour éviter cela, les informations doivent être bien rangées de telle sorte que les internautes les trouvent facilement. C'est comme dans la vie réelle, les affaires mal rangées se retrouvent difficilement. Ergonomie web et logiciel, architecture de l'information, utilis.
---