Adobe Captivate
CaptivateDev.com | eLearning Development with Adobe Captivate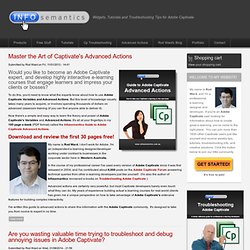 Infosemantics Pty Ltd | Adobe Captivate Widgets | Advanced e-Learning Tutorials | SCORM LMS Compatibility
Would you like to become an Adobe Captivate expert, and develop highly interactive e-learning courses that engage learners and impress your clients or bosses? To do this, you'd need to know what the experts know about how to use Adobe Captivate Variables and Advanced Actions. But this level of knowledge usually takes many years to acquire, or involves spending thousands of dollars on advanced classroom training (if you can find anyone able to deliver it). Now there's a simple and easy way to learn the theory and power of Adobe Captivate's Variables and Advanced Actions. It's all at your fingertips in my 195 page e-book (PDF format) called the Infosemantics Guide to Adobe Captivate Advanced Actions.
The Widget King | So many widgets, so little time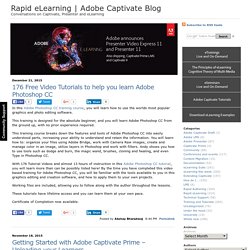 inShare3 Topic: Is it Possible to Predict & Enhance Learning with Big Data Date and time: Wednesday, 4th December, 2013 10:00 AM to 11:00 AM US/Pacific Description: Learner Intervention in Adobe Presenter 9 extends the social collaboration experience and integrates the traditional quiz outcomes to create a modern and powerful solution for analyzing the student learning outcomes in your course. But the analysis goes beyond simple display of statistics. The software is able to make recommendations, evaluate the probability that learners will succeed or fail, and ease the process of intervening for the trainer or teacher.