Adobe Captivate
CaptivateDev.com | eLearning Development with Adobe Captivate. Infosemantics Pty Ltd | Adobe Captivate Widgets | Advanced e-Learning Tutorials | SCORM LMS Compatibility. The Widget King | So many widgets, so little time. Rapid eLearning | Adobe Captivate Blog. April 9, 2014 Creating Advanced Drag & Drop Interactions with Adobe Captivate inShare6 Creating Drag and Drop interactions in Adobe Captivate is fun and easy, but what if you want to really harness the power of Captivate's Advanced and Shared Actions in conjunction with Drag and Drop?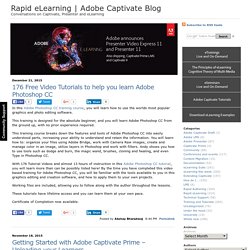 In this article I'll explain and Continue reading… February 22, 2014. Screen capture software, E-learning authoring software, Learning management system| Adobe Captivate 5.5.
---
david.lopez Mar 1 2012

Thanks for the pearl...I'm a big captivate user/fan...wanna team up on this one?
---