Studies and Trends
Les stratégies mobile gagnantes pour les PME
The Varied Regional Buying Patterns of Mexico's Consumers
Fabiola de la Portilla, Account Director, Nielsen Mexico With a population of more than 112 million people and an area about three times the size of Texas, Mexico is a vast country. As the second most populous country in Latin America and the most populous Spanish-speaking country in the world, it is a vital market for marketers and consumer packaged goods companies to understand.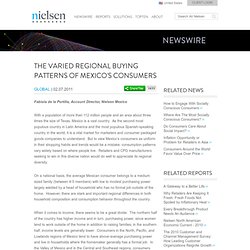 I've never done one of the semi-mandatory annual trends prediction posts that greet every new year, and had no plans to start now. Which is probably a good thing, considering it's now February already. But I thought it might still be useful to highlight the conceptual areas that I think hold the most promise for continuing exploration, innovation and creativity in 2011. I thought it would help me frame up the year, and if nothing else serve as a useful snapshot in time about what I'm excited about.
Supercollider | 2011 Trends » *supercollider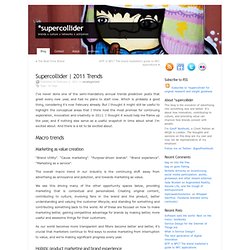 Profil type de l'internaute français - France - Seoplayer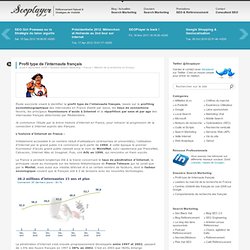 Étude succincte visant à identifier le profil type de l'internaute français, basée sur le profiling sociodémographique des internautes en France établit par Ipsos, les lieux de connections favoris, les principaux fournisseurs d'accès à Internet et la répartition par sexe et par age des internautes français déterminés par Médiamétrie. Je commence l'étude par la brève histoire d'internet en France, pour retracer la progression de la connection à Internet auprès des français. L'histoire d'Internet en France : Initialement accessible à un nombre réduit d'utilisateurs (entreprises et universités), l'utilisation d'Internet par le grand public n'a commencé qu'à partir de 1994. A cette époque le premier fournisseur d'accès grand public naissait sous le nom de WorldNet, suivi rapidement par FranceNet, Calvacom, Internet Way et Imaginet.
Healthy Living Drives Chilean Interest in Light/Diet Foods
Marcos Loredo, Nielsen Homescan Business Unit Manager, Nielsen Chile Increasingly, people around the world are focusing on their health and wellness, whether it is exercising more or watching what they eat. In Latin America, Chileans are no exception, and new research from The Nielsen Company in Chile found that virtually every household in the nation (99%) has purchased light/diet products as part of that effort, with an average purchase frequency of almost every two weeks and an average ticket of approximately $4.40 (U.S.).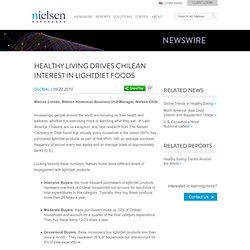 Here is the latest infographic out from Flowtown, this time on how Adults are using mobile phones, and with it, comes a few interesting stats to take notice of… Like the 90% of 18-29 year olds that sleep with their mobile phone, this is a stat that doesn't mean too much directly, but helps establish the connection between a person and their phone as a very powerful tool for marketers come day light hours! You'll also notice that 18% of 18-24 year olds send over 200 text messages per day. Be Sociable, Share!
Infographic: How Adults Use Mobile Phones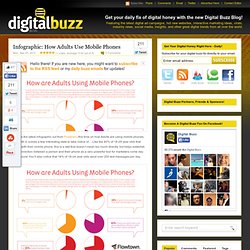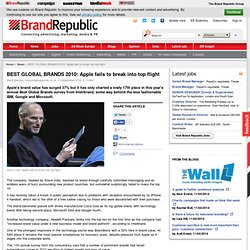 BEST GLOBAL BRANDS 2010: Apple fails to break into top flight
The company, headed by Steve Jobs, boosted its brand through carefully controlled messaging and an endless wave of buzz surrounding new product launches, but somewhat surprisingly failed to make the top 10. It has recently taken a knock in public perception due to problems with reception encountered by its iPhone 4 handset, which led to the offer of a free rubber casing for those who were dissatisfied with their purchase. The brand barometer placed soft drinks manufacturer Coca-Cola as its top global brand, with technology brand IBM taking second place, Microsoft third and Google fourth. Another technology company, Hewlett-Packard, broke into the top ten for the first time as the company had "increased brand value under a new business model and brand platform", according to Interbrand.
Are Twitter Followers Better Than Facebook Fans?
Marketers looking to push out the most effective messages to opt-in recipients must understand how audiences differ across channels and what causes them to connect with brands.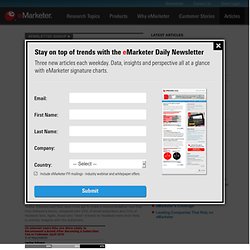 To recognize the contributions and culture of Hispanics in the U.S., the period from September 15 - October 15 is designated as Hispanic Heritage Month. In advance of this celebration, The Nielsen Company has prepared a snapshot of the key media usage trends for this demographic segment based on surveys with thousands of Hispanic respondents around the country and in Puerto Rico. Download the Hispanic Media Usage fact sheet.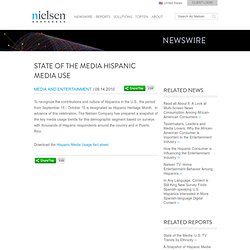 State of the Media: Hispanic Media Use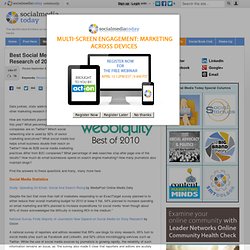 Data junkies, stats addicts, web trivia buffs rejoice — here are a deluge of social media, search and other marketing research facts and figures from 50 articles and blog posts published so far in 2010. How are marketers planning to allocate budgets this year? What percentage of Fortune 100 companies are on Twitter? Which social networking site is used by 92% of senior marketing executives? What social media tool helps small business double their reach on Twitter?
Global Trends in Healthy Eating
Eating healthy is a goal for most people, but often times a difficult one to regularly achieve. Work and family responsibilities often make time scarce, and it is easier to go out to restaurants or prepare ready-made meals at home.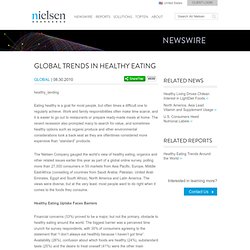 Marketers Educate via Video
Remember Three-Screen Marketing Plans? So 2007. Time to Get Ready For Six Screens - Advertising Age - DigitalNext
"The Sixth Screen." Sounds like something from a sci-fi flick with Bruce Willis, doesn't it? But actually, no; this is as real as it gets and we are quickly moving from three screens to six screens fast and furious. To see what's coming, we need a quick primer on what the multiscreen concept is all about. As marketers, we all understand the need to translate our brand message across the three screens -- PC, TV and mobile.
Hubba Bubba: Pop-up killer | Ads of the World
Luxury Lifestyle.com - Live the Good Life
The State Of Mobile Commerce In Europe
Overview Two Pew Internet Project surveys of teens and adults reveal a decline in blogging among teens and young adults and a modest rise among adults 30 and older. In 2006, 28% of teens ages 12-17 and young adults ages 18-29 were bloggers, but by 2009 the numbers had dropped to 14% of teens and 15% of young adults. During the same period, the percentage of online adults over thirty who were bloggers rose from 7% blogging in 2006 to 11% in 2009. Much of the drop in blogging among younger internet users may be attributable to changes in social network use by teens and young adults. Nearly three quarters (73%) of online teens and an equal number (72%) of young adults use social network sites.
We've discussed some tactics to get your company better engaged with social media. Lest you think there's a limit to how you can connect with business and customer facing audiences, we've assembled this list of more than 35 companies who are experimenting with social media in a host of different ways. This list is by no means exhaustive, and it represents a wide variety of businesses, industries and social media tools. As you can see, engagement takes many forms. Some are likely to generate more discussions with the company while others might result better connections between customers.
35+ Examples of Corporate Social Media in Action
Influencer Guidebook (2013) This complete rewrite of WOMMA's 2008 Influencer Handbook is the work of the highly esteemed Research & Measurement Council and includes contributions from Neil Beam (MotiveQuest), Ashley Libby (The Anca Group), Susan Emerick (IBM), William Chamberlain (IBM), Jane Collins (BlogHer), Michael Fein (Fanscape), Amy Laine (IBM) and Dhara Naik (Social@Ogilvy). Share WOMMA's Influencer Guidebook within your organization to learn, New Definitions of Influencers 5 Categories of Influencers 3 Levels of Program Considerations "Before" and "After" Metrics Attributes of an Influencer
Case Study Library
Much has changed in the world of social media since we first published our Superlist of Social Media Case Studies in 2008. A plethora of new social media services have come and (some) gone. More and more organizations are using social media tools in unique and creative ways. It's a rare organization that isn't using some form of social media these days. But finding and learning examples and case studies of good social media remains important to anyone wanting to improve their organization's social media program.
Best Practices: 10 Tips to Online Community Success - destinatio
What is pervasive creativity in the era of Social Media?
World Map of Social networks