Gordon Matta-Clark.
Urban Alchemy/Gordon Matta-Clark: October 30, 2009 - June 5, 2010. Periplastic. ----A guest post by David Bruce from davidbrucestudios.com, contributing to the second Ecological Urbanism discussion hosted by Annick Labeca, Taneha Bacchin, DPR-Barcelona and urbanTick. ---- Space is the periplastic medium of the city; forming as necessary to meet the needs of an ever-changing society.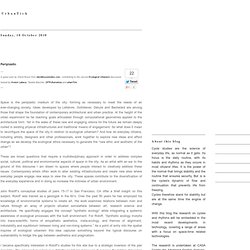 Ideas developed by Lefebvre, Gottdiener, Deluze and Bachelard are among those that shape the foundation of contemporary architectural and urban practice. » matta-clark AUTOMATICO ROBOTICO, CODIFICADO: INCUBADORA DE TESIS DOCTORALES, PENSAMIENTO Y ARQUITECTURA. CURSO DE DOCTORADO ETSAM. JOSE BALLESTEROS. 1.Gordon Matta-Clark, "Conical Intersect", 1975.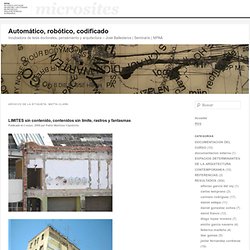 (Operaciones automáticas. Desarrollo robótico. Heridas en el espacio urbano. Quería dejar al "ARTISTA" para mi post número 1.000, me faltan 10 para cumplirlos, pero después de 2 horas buscando algo que me motivase sin conseguirlo, he decidido que necesito levantarme el ánimo y que nada mejor, para ello que darme un homenaje visual en condiciones, así que voy a hacer un repasito a la obra de Gordon Matta-Clark.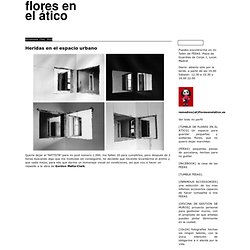 Los que hayan pasado con frecuencia por el Ático sabrán, siempre lo digo, que nada de lo que haya visto, artísticamente hablando, me ha impactado tanto como el trabajo en el espacio urbano, de este creador. Una búsqueda en google, os puede poner al día de lo que su inconmensurable obra, ha aportado al arte contemporáneo, pero, para el que no tenga ganas de indagar, os dejo un artículo de Darío Corbeira, editor del libro ¿Construir… o deconstruir? Que fue publicado por el El País en el 2006.
---