Vengeances anon
Anonymous Punks the FBI
by Steve Ragan - Feb 9 2011, 20:28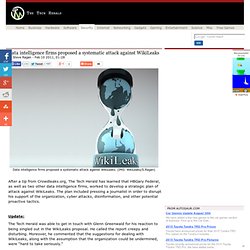 Five people have been arrested in conjunction with an alleged Anonymous DDoS attack on websites including that of MasterCard. Photograph: Jonathan Bainbridge/Reuters Five people were arrested yesterday in connection with a spate of online attacks last month in support of WikiLeaks. Police said the five males, aged 15, 16, 19, 20 and 26, were arrested in a series of raids at 7am in the West Midlands, Northamptonshire, Hertfordshire, Surrey and London. All five are being held in custody at local police stations.
Police arrest five over Anonymous WikiLeaks attacks | Technology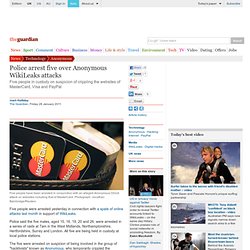 State of the Nation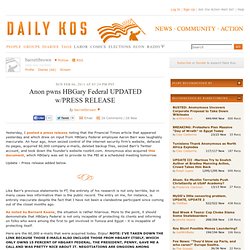 Like Barr's previous statements to FT, the entirety of his research is not only terrible, but in many cases less informative than is the public record.
Suicide d'une ado victime d'un viol collectif : des Anonymous se font enquêteurs - Société - MYTF1News