Prestataires techniques.
Attacks by "Anonymous" WikiLeaks proponents not anonymous
For a number of days the websites of MasterCard, Visa, PayPal and others are attacked by a group of WikiLeaks supporters (hacktivist). Although the group calls itself "Anonymous", researchers at the DACS group of the University of Twente (UT), the Netherlands, discovered that these hacktivists are easy traceable, and therefore anything but anonymous. The LOIC (Low Orbit Ion Cannon) software, which is used by the hacktivists, was analyzed by UT researchers, who concluded that the attacks generated by this tool are relatively simple and unveil the identity of the attacker.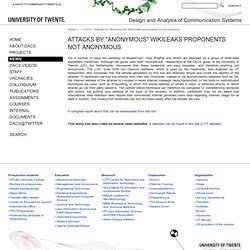 loic-report.pdf (Objet application/pdf)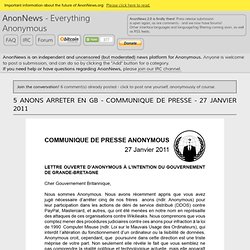 Everything Anonymous
pdf-version : http://anonops.webs.com/ANONYMOUS-PRESS-RELEASE_27-01-2011-FR.pdf Cher Gouvernement Britannique,