Prestataires techniques.
Web anonyme. Attacks by "Anonymous" WikiLeaks proponents not anonymous. For a number of days the websites of MasterCard, Visa, PayPal and others are attacked by a group of WikiLeaks supporters (hacktivist).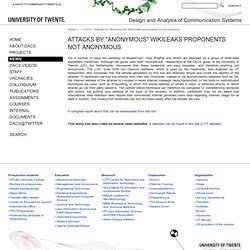 Although the group calls itself "Anonymous", researchers at the DACS group of the University of Twente (UT), the Netherlands, discovered that these hacktivists are easy traceable, and therefore anything but anonymous. The LOIC (Low Orbit Ion Cannon) software, which is used by the hacktivists, was analyzed by UT researchers, who concluded that the attacks generated by this tool are relatively simple and unveil the identity of the attacker. Loic-report.pdf (Objet application/pdf) Everything Anonymous. Pdf-version : Cher Gouvernement Britannique, Nous sommes Anonymous.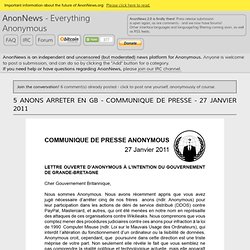 Nous avons récemment appris que vous avez jugé nécessaire d'arrêter cinq de nos frères anons (ndlr. Anonymous) pour leur participation dans les actions de déni de service distribué (DDOS) contre PayPal, Mastercard, et autres, qui ont été menées en notre nom en représaille des attaques de ces organisations contre Wikilieaks. Nous comprenons que vous comptez mener des procédures judiciaires contre ces anons pour infraction à la loi de 1990 Computer Misuse (ndlr.
---