Référentiels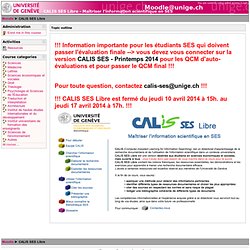 Exploiter les ressources documentaires Objectif Gratuite ou payante, imprimée ou électronique, l'information, bien que de plus en plus accessible à chacun, est paradoxalement difficile à obtenir.
Tutoriel InuKtic
http://www2.c2i.education.fr/sections/c2i1/referentiel/livret/do
Educnet B2i C2i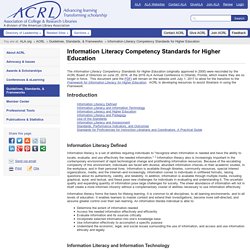 These standards were reviewed by the ACRL Standards Committee and approved by the Board of Directors of the Association of College and Research Libraries (ACRL) on January 18, 2000, at the Midwinter Meeting of the American Library Association in San Antonio, Texas. These standards were also endorsed by the American Association for Higher Education (October 1999) and the Council of Independent Colleges (February 2004). A PDF of this document is available. Print copies may be purchased from the Association of College and Research Libraries for $25.00 for a package of 25, including standard postage.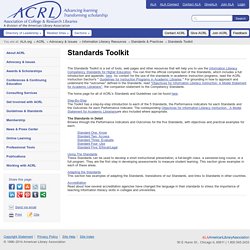 The Standards Toolkit is a set of tools, web pages and other resources that will help you to use the Information Literacy Competency Standards for Higher Education . You can find the official complete text of the Standards, which includes a full introduction and appendix, here . As context for the use of the standards in academic instruction programs, read the ACRL Instruction Section's " Guidelines for Instruction Programs in Academic Libraries ."
ACRL | Standards Toolkit
ACRL | Standard One
Standard: The information literate student determines the nature and extent of the information needed. Performance Indicators: 1.