When you're bored...
14 Cool And Unusual Aquariums
Do you live a stressful life, have high blood pressure and insomnia? Keeping an aquarium may be a good therapy for you! Studies going back as far as the late 80's have shown that watching those beautiful fish going about their daily business can make you feel calm, reducing stress levels and your blood pressure. Although researchers have shown that the greater reduction in blood pressure occurred when there were fish in the tank, vs pleasingly decorated, but fishless, tanks – having a cool aquarium can at least make your friends jealous!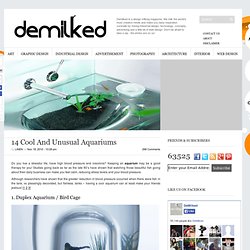 Sketch of Voronoi
To all non pet owners
Colored pencils 70 Piece Bulbs Jigsaw Puzzle
How to Win Friends and Influence People by Dale Carnegie
The free five minute personality test!
guaranteed fun & good crack
reaction_version5.swf (application/x-shockwave-flash Object)
Expand your vocabulary!
Human World
Human World The women of the Tiwi tribe in the South Pacific are married at birth.
Amazing Word Clock
disturning-photo.jpg (JPEG Image, 500x414 pixels)
s EasyLife: Student Life Made Smarter. - 10 Amazing Views from Airplanes
cntower_timelapse.swf (application/x-shockwave-flash Object)
JAMES FACE - OLI + ALEX
SmbcPreloader.swf (application/x-shockwave-flash Object)