Pictures!
Awesome!
Funny. Paul Cadden's Hyperrealistic Drawings Made with Graphite and Chalk. Paul Cadden is a Scottish-born hyperrealist artist who creates painfully realistic artworks using only graphite and chalk.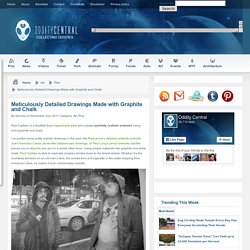 I've posted some pretty realistic drawings in the past, like Rajacenna's detailed celebrity portraits, Juan Francisco Casas' photo-like ballpoint pen drawings, or Paul Lung's pencil artworks, but the pieces you're about to see are on a whole other level. Using simple materials like graphite and white chalk, Paul Cadden is able to replicate complex photos down to the tiniest details. Whether it's the countless wrinkles on an old man's face, the smoke from a lit cigarette or the water dripping from someone's face, he makes it look unbelievably realistic. "Although the drawings and paintings I make are based upon a series of photographs, video stills etc, the art created from the photo is used to create a softer and much more complex focus on the subject depicted, presenting it as a living tangible object.
Cute!
Charts, etc. Boba Fett Rum [PIC] 100 Incredible Views Out Of Airplane Windows. Mark Jenkins // Street Installations. 50 Extremely Awesome Examples of Typography.
This time we're gonna show you some truly inspiring works with text, also referred to as typography.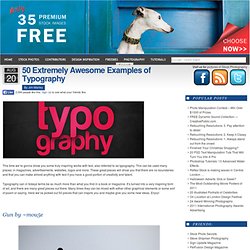 This can be used many places; in magazines, advertisements, websites, logos and more. These great pieces will show you that there are no boundaries and that you can make almost anything with text if you have a good portion of creativity and talent. Sketches : Kevin Ragnott. Solitude - 2010/2011 - A work in progress on the Behance Network. 70 Photos That Will Take Your Breath Away. We here at DPShots believe that the easiest way to learn photography is to learn it by example.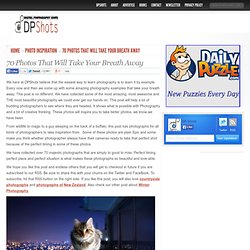 Every now and then we come up with some amazing photography examples that take your breath away. This post is no different. More Imaginative Package Designs - DESIGN. More Imaginative Package Designs You guys seemed to enjoy the Imaginative Package Designs post I put together a couple of months ago and as a little token of my appreciation I thought I'd put together a second part - More Imaginative Package Designs.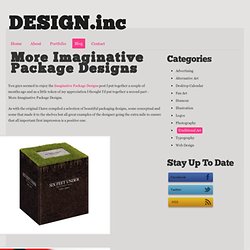 As with the original I have compiled a selection of beautiful packaging designs, some conceptual and some that made it to the shelves but all great examples of the designer going the extra mile to ensure that all important first impression is a positive one.
---