Article Wellbeing
Why Exercise Makes You Less Anxious - Well Blog - NYTim. Top 10 Fitness Trends from 2009 -- baltimoresun.com. The non-profit American Council on Exercise (ACE) has announced the top ten fitness trends from 2009, based on its annual survey of personal trainers, group fitness experts, advanced health and fitness specialists and lifestyle and weight management consultants.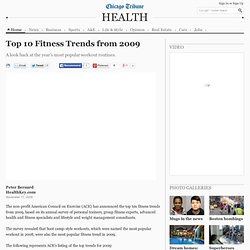 The survey revealed that boot camp-style workouts, which were named the most popular workout in 2008, were also the most popular fitness trend in 2009. The following represents ACE's listing of the top trends for 2009: 1. Boot Camp-Style Workouts: Boot camp workouts remain extremely popular because they provide a total-body workout that's varied, fun and challenging. Personal Best - Is the Exercise Cool-Down Really Necessary? - NY. Fitness - Fitness - Back to Basics, Like 'Boot Camp' - NYTimes.c. Smartphone Training Apps Help You Sweat the Details - NYTimes.co. The Psychology of Motivation.
The Psychology of Motivation By Bret Fitzgerald April 10, 2006 Bret A.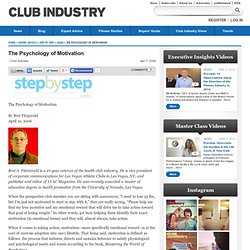 FitzGerald is a 27-year veteran of the health club industry. He is vice president of corporate communications for Las Vegas Athletic Clubs in Las Vegas, NV, and publisher and editor of LVAC Magazine. Findings from Active Living Research: The Effects of Age and Pla. Findings from Active Living Research: Physical Activity During t. Link Between Physical Fitness and IQ. By Rick Nauert PhD Senior News Editor Reviewed by John M.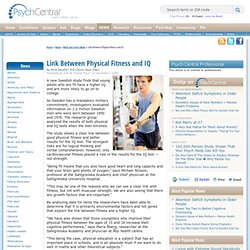 Grohol, Psy.D. on December 3, 2009 A new Swedish study finds that young adults who are fit have a higher IQ and are more likely to go on to college. As Sweden has a mandatory military commitment, investigators evaluated information on 1.2 million Swedish men who were born between 1950 and 1976. They're Playing My Song. Time to Work Out. Music in Sport and Exercise : An Update on Research and Applicat.
Submitted by: Costas Karageorghis and David-Lee Priest – Brunel University Abstract In spring 1999, almost a decade ago, the first author published in The Sport Journal an article titled "Music in Sport and Exercise: Theory and Practice."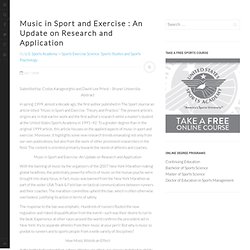 The present article's origins are in that earlier work and the first author's research while a master's student at the United States Sports Academy in 1991–92. To a greater degree than in the original 1999 article, this article focuses on the applied aspects of music in sport and exercise. Moreover, it highlights some new research trends emanating not only from our own publications, but also from the work of other prominent researchers in the field. The Beat Goes On: The Effects of Music on Exercise.
How does music affect exercise—and the exerciser?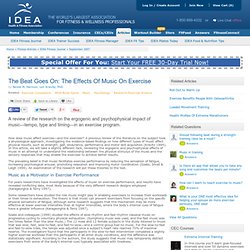 A previous review of the literature on the subject took a physiological approach, investigating the evidence-based findings on how different types of music affect physical results, such as strength, gait, endurance, performance and motor skill acquisition (Kravitz 1994). In this article, we will take a slightly different tack, reviewing the ergogenic and psychophysical effects of music in an attempt to understand the relationship between the physical stimulus of the music and the sensory responses that may enable the exerciser to achieve better results.
The prevailing belief is that music facilitates exercise performance by reducing the sensation of fatigue, increasing psychological arousal, promoting relaxation and improving motor coordination (Szabo, Small & Leigh 1999). Why music makes exercise easier - Fitness. With the fall marathon season in full swing, thousands of runners are gearing up for the big day.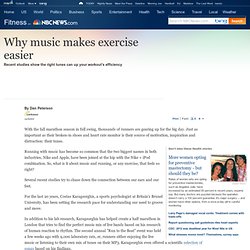 Just as important as their broken-in shoes and heart rate monitor is their source of motivation, inspiration and distraction: their tunes. Running with music has become so common that the two biggest names in both industries, Nike and Apple, have been joined at the hip with the Nike + iPod combination. So, what is it about music and running, or any exercise, that feels so right? Mozilla Firefox. Wellbeing on the web: the 12 fitness websites you need to bookma.
My daily route to health. Physical activity | liveto100.co.nz | Health & Wellbeing for New. They're Playing My Song. Time to Work Out. Women's World ME - Womens World ME.
---