Romance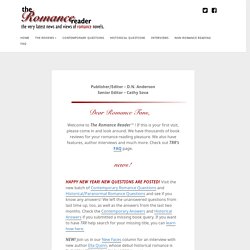 Welcome to The Romance Reader™! If this is your first visit, please come in and look around. We have thousands of book reviews for your romance reading pleasure.
The Romance Reader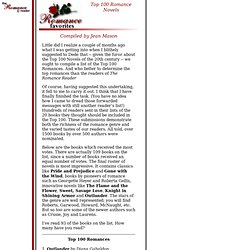 Compiled by Jean Mason Little did I realize a couple of months ago what I was getting into when I blithely suggested to Dede that -- given the furor about the Top 100 Novels of the 20th century -- we ought to compile a list of the Top 100 Romances. And who better to determine the top romances than the readers of The Romance Reader Of course, having suggested this undertaking, it fell to me to carry it out.
The Romance Reader Top 100 List
Romance Writers of America
Romance Writers of America is dedicated to advancing the professional interests of career-focused romance writers through networking and advocacy. See what we're all about and learn more about this strong, dynamic association. Education From its monthly trade magazine to conference workshops and online classes, RWA offers a variety of educational opportunities for romance writers to learn and improve upon the skills and knowledge neccessary to thrive in the fast-paced romance publishing industry.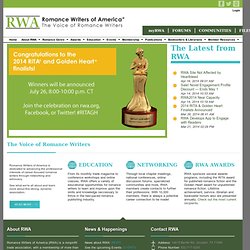 Romance Times Book Reviews
Romance Reviews Today
Everything Romantic!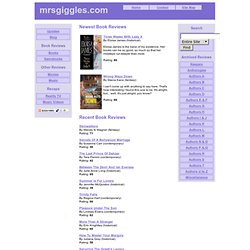 Newest Book Reviews Recent Book Reviews Skinwalkers By Wendy N Wagner (fantasy) Rating: 71 Secrets Of A Bollywood Marriage By Susanna Carr (contemporary) Rating: 36 The Last Prince Of Dahaar By Tara Pammi (contemporary) Rating: 42
Historical Romance Writers
CataRomance | Celebrating category Romance
If adventure is what you crave in a story and also want lots of sexual tension, then the ICE: Black Ops Defenders miniseries by the very talented Melissa Cutler will satisfy both requirements. The first book in the miniseries remains one of my all-time favorites, and SECRET AGENT SECRETARY is definitely added to the list. From high-speed car chases to ruthless thugs with guns, the danger is never-ending plus almost always physically threatening and not knowing the outcome always upped my fear for the main couple. What split-second decisions these two frequently made could mean either living or dying, and I so hoped they would make the right choice as I truly loved Ryan and Avery. Melissa Cutler ingeniously brings a suspenseful book about spies and romance to life with riveting cleverness. Since Avery Meadows works as a secretary for Immigration and Customs Enforcement in San Diego, she has reached one of her goals.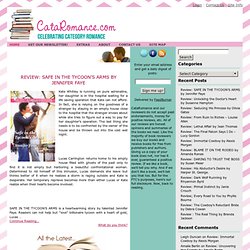 Smart Bitches, Trashy Books
Wolf Hall by Hilary Mantel is $2.99 at Amazon right now. I'm not sure if that will be matched, but fingers crossed. This is the first book in Mantel's series, and it was a HUGE word of mouth phenomenon when it came out.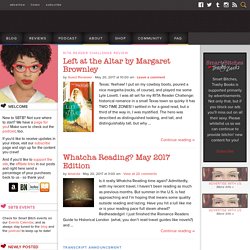 "Almost Kiss" Cover Art Contest Do you have a couple on your cover who are Almost Kissing? Not quite but just right there --- OH SO CLOSE? Are they embracing and leaning in for the kiss? All entries must be received by February 1, 2014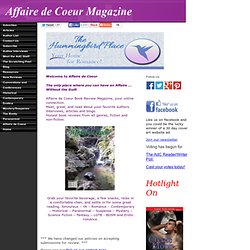 Affaire de Coeur
Harlequin
Avon Authors
Kensington Publishing
Mills & Boon
The first thing you need to know about Much Ado about Jack is that there is no "Jack." Had I known that going in, I probably wouldn't have chosen to read this book. Our hero, James, is called Jack once or twice by mistake. Anyone who names their book after a deliberate mispronunciation of their main character's name—a mispronunciation which occurs not even a handful of times and thus seems pointless—is not an author I'd care to read, frankly. more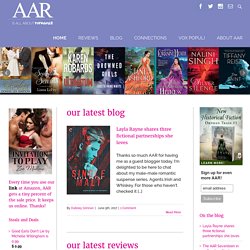 All About Romance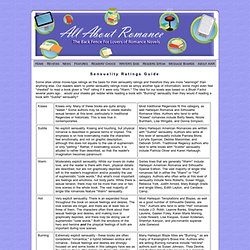 Sensuality Ratings Guide Some sites utilize movie-type ratings as the basis for their sensuality ratings and therefore they are more "warnings" than anything else. Our readers seem to prefer sensuality ratings more as simpy another type of information; some might even feel "cheated" to read a book given a "Hot" rating if it were only "Warm." The idea for our levels was based on a Blush Factor several years ago.. .would your cheeks get redder while reading a book with "Burning" sensuality than they would if reading a book with "Subtle" sensuality?
Sensuality Ratings Guide