Romance
The Romance Reader. The Romance Reader Top 100 List. Compiled by Jean Mason Little did I realize a couple of months ago what I was getting into when I blithely suggested to Dede that -- given the furor about the Top 100 Novels of the 20th century -- we ought to compile a list of the Top 100 Romances.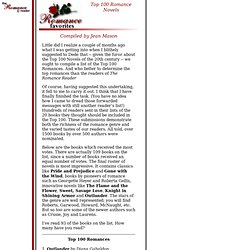 And who better to determine the top romances than the readers of The Romance Reader Of course, having suggested this undertaking, it fell to me to carry it out. Romance Writers of America. Romance Times Book Reviews. Romance Reviews Today. Everything Romantic! Newest Book Reviews Recent Book Reviews Skinwalkers By Wendy N Wagner (fantasy) Rating: 71 Secrets Of A Bollywood Marriage By Susanna Carr (contemporary) Rating: 36 The Last Prince Of Dahaar By Tara Pammi (contemporary) Rating: 42.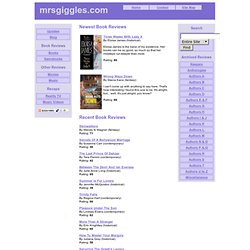 Historical Romance Writers. CataRomance | Celebrating category Romance. Smart Bitches, Trashy Books. Affaire de Coeur. Harlequin. Avon Authors. Kensington Publishing. Mills & Boon. All About Romance. Sensuality Ratings Guide. Sensuality Ratings Guide Some sites utilize movie-type ratings as the basis for their sensuality ratings and therefore they are more "warnings" than anything else.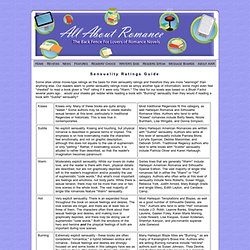 Our readers seem to prefer sensuality ratings more as simpy another type of information; some might even feel "cheated" to read a book given a "Hot" rating if it were only "Warm. " The idea for our levels was based on a Blush Factor several years ago.. .would your cheeks get redder while reading a book with "Burning" sensuality than they would if reading a book with "Subtle" sensuality?
---