Pennsylvania
Play. Explore PA. Historic PA. Work. Providing Services to PA. Doing Business in PA. Working in PA. Live. Health Services. Historic PA. Social Services. Housing in PA. Financial Information. Education Resources. PA Online. PennDOT. E-ZPass on the Pennsylvania Turnpike. Outdoor Shop On-Line License Sales. Below is a list of transactions you may complete using this site.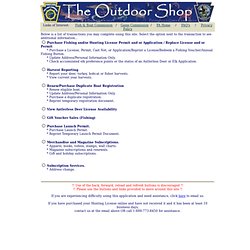 Select the option next to the transaction to see additional information... Purchase Fishing and/or Hunting License Permit and or Application / Replace License and or Permit * Purchase a License, Permit, Cast Net, or Application/Reprint a License/Redeem a Fishing Voucher/Annual Fishing Button. * Update Address/Personal Information Only. * Check accumulated elk preference points or the status of an Antlerless Deer or Elk Application. Pennsylvania Lottery. COMPASS. Child Support Program. The Pennsylvania Child Support website is an easy way to access child support program information and case details.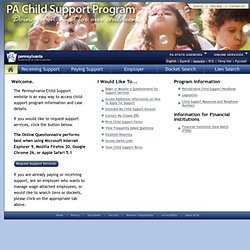 If you would like to request support services, click the button below. The Online Questionnaire performs best when using Microsoft Internet Explorer 9, Mozilla Firefox 20, Google Chrome 26, or Apple Safari 5.1 If you are already paying or receiving support, are an employer who wants to manage wage-attached employees, or would like to search liens or dockets, please click on the appropriate tab above.
Commonwealth Workforce Development. Unemployment Compensation. Welcome UC is money paid to people who have lost a job through no fault of their own.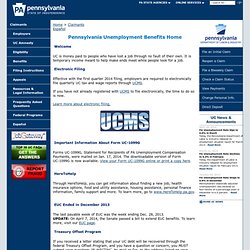 It is temporary income meant to help make ends meet while people look for a job. Electronic Filing Effective with the first quarter 2014 filing, employers are required to electronically file quarterly UC tax and wage reports through UCMS. If you have not already registered with UCMS to file electronically, the time to do so is now. Jobseekers. Pennsylvania Higher Education Assistance Agency. More Online Services. State Court. This page provides judicial branch links for each state, focusing on the administrative office of the courts, the court of last resort, any intermediate appellate courts, and each trial court level.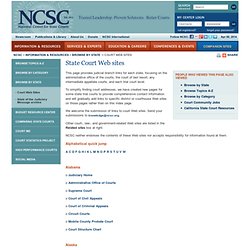 To simplify finding court addresses, we have created new pages for some state trial courts to provide comprehensive contact information and will gradually add links to specific district or courthouse Web sites on those pages rather than on this index page. We welcome the submission of links to court Web sites. Taxes.
---