Pennsylvania
Play
Explore PA
Historic PA
Work
Providing Services to PA
Doing Business in PA
Working in PA
Live
Health Services
Historic PA
Social Services
Housing in PA
Financial Information
Education Resources
PA Online
PennDOT
E-ZPass on the Pennsylvania Turnpike
Outdoor Shop On-Line License Sales
Pennsylvania Lottery
COMPASS
The Pennsylvania Child Support website is an easy way to access child support program information and case details. If you would like to request support services, click the button below. The Online Questionnaire performs best when using Microsoft Internet Explorer 9, Mozilla Firefox 20, Google Chrome 26, or Apple Safari 5.1 If you are already paying or receiving support, are an employer who wants to manage wage-attached employees, or would like to search liens or dockets, please click on the appropriate tab above.
Child Support Program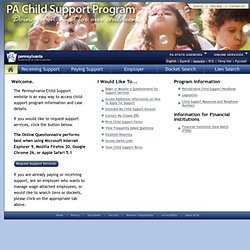 Commonwealth Workforce Development
Unemployment Compensation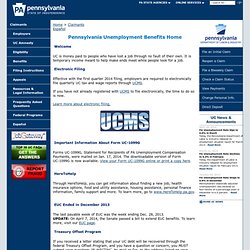 Alerts & Advisories PA CareerLink® Weather Delays The following PA CareerLink® offices will be delayed in opening until 10:30 a.m. today, Jan. 3 due to the inclement weather: Adams County office in Gettysburg Berks County office in Reading Capitol Region office in Harrisburg Cumberland County office in Carlisle Lancaster County office in Lancaster EUC Has Ended on Dec. 28, 2013 Absent Congressional action, the last payable week of EUC is the week ending Dec. 28, 2013.
Jobseekers
Pennsylvania Higher Education Assistance Agency
More Online Services
State Court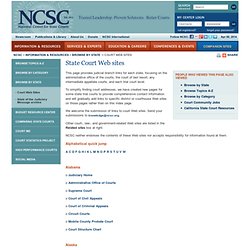 This page provides judicial branch links for each state, focusing on the administrative office of the courts, the court of last resort, any intermediate appellate courts, and each trial court level. To simplify finding court addresses, we have created new pages for some state trial courts to provide comprehensive contact information and will gradually add links to specific district or courthouse Web sites on those pages rather than on this index page. We welcome the submission of links to court Web sites.
Taxes