Non-fiction
Book TV. BOOK REVIEW: Nonfiction. Non-Fiction Book Reviews. Gompertz, Will(2012) What Are You Looking At?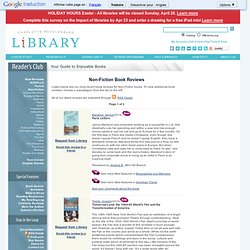 : The Surprising, Shocking, and Sometimes Strange Story of 150 Years of Modern Art. NPR Books. NPR Nonfiction. 100 Best Nonfiction. BiblioTravel - for books that take you away. Overbooked.com. Book Finder. Select your view: Order books by: Visitation StreetIvy Pochoda Paperback: 04/15/2014 A riveting literary mystery set against the rough-hewn backdrop of the New York waterfront in Red Hook.
American Dream MachineMatthew Specktor Paperback: 04/15/2014 American Dream Machine is the story of two talent agents and their three troubled boys, heirs to Hollywood ...
---