Mystery/Suspense/Thriller
Get flash to fully experience Pearltrees
Ready for your hair to stand on end -- while reading a book?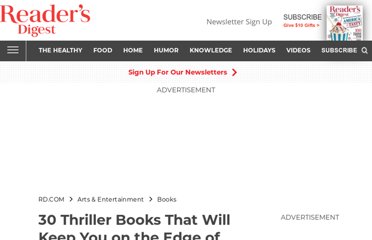 The Winner: The Silence Of The Lambs by Thomas Harris beat out two other serial killer books — The Girl with the Dragon Tattoo by Stieg Larsson and Kiss the Girls by James Patterson — for the No. 1 spot. It's been a cliffhanger, but now the final page can be turned. The NPR audience nominated some 600 novels to our "Killer Thrillers" poll and cast more than 17,000 ballots. The final roster of winners is a diverse one to say the least, ranging in style and period from Dracula to The Da Vinci Code, Presumed Innocent to Pet Sematary. What these top 100 titles share, however, is that all of them are fast-moving tales of suspense and adventure.
Authors and Characters Added in March 2013 New Frankie Y. Bailey series: Hannah McCabe, a police detective in the not-too-distant future, in Albany, New York John Enright : Apelu Soifua, a detective sergeant, formerly with the San Francisco Police Department, now back home in Pago Pago, American Samoa, in the Jungle Beat mysteries Barry Estabrook : non-series crime fiction
Classic Authors: Agatha Christie, Wilkie Collins, Sir Arthur Conan Doyle, Dashiell Hammett, Ed McBain, Ellis Peters, Edgar Allan Poe, Mickey Spillane, Jim Thompson CHARACTERISTICS: Mysteries present a challenge to the reader who must use the clues to solve the crime. The stories are usually intricately plotted but can be either fast paced and suspenseful or slower paced with lots of detail and description.
Early Mystery Novels 1840 - 1913 The Mystery Novel from Poe to Sherlock Holmes Those Who Came After Holmes Novels of the Golden Age 1914 - 1945