How To
Getting Started at Genealogy Today. I don't know where to begin on my genealogy Welcome to the wonderful world of genealogy.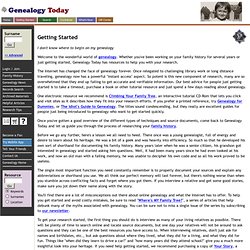 Whether you've been working on your family history for several years or just getting started, Genealogy Today has resources to help you with your research. Where's MY Family Tree? - A Newbie Column at Genealogy Today. By Christine Sievers Most Recent Articles Two metaphors come to mind for genealogical research.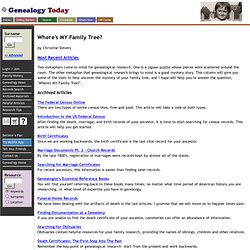 One is a jigsaw puzzle whose pieces were scattered around the room. Resources for Genealogists and Family Historians. Skip Navigation.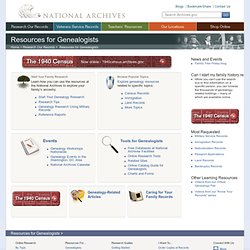 Resources for Genealogists Home > Research Our Records > Resources for Genealogists. Genealogy: Getting Started. Genealogy, one of the most popular pastimes in the United States, is the study of the history of a family.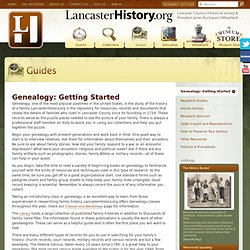 LancasterHistory.org is the repository for resources, records and documents that reveal the details of families who lived in Lancaster County since its founding in 1729. These records serve as the puzzle pieces needed to see the picture of your family. There is always a professional staff member on duty to assist you in using our collections and help you put together the puzzle. Begin your genealogy with present generations and work back in time. One good way to start is to interview relatives. About Genealogy - Learn How to Research Your Family Tree.
---