gDebug
Introduction If you haven't already done so, you might want to read the intro to hidden preferences. Now, you've probably seen lots of hidden preferences by this point, and you're familiar with the defaults command, but maybe you've wondered how people figure them out...
The Arctic Mac // Tutorials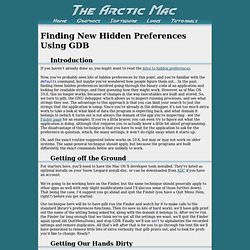 GNU Debugger - GDB Tutorial
GDB Tutorial
Gdb is a debugger for C (and C++). It allows you to do things like run the program up to a certain point then stop and print out the values of certain variables at that point, or step through the program one line at a time and print out the values of each variable after executing each line.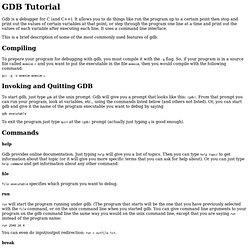 A debugger is a program that runs other programs, allowing the user to exercise control over these programs, and to examine variables when problems arise.
GDB Tutorial
How to Debug Using GDB
Peter's gdb Tutorial: Table Of Contents
RMS's gdb Tutorial
The Arctic Mac // Tutorials
GDB Documentation
Contents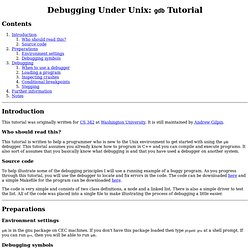 gdb Tutorial