Gardening
Planting - Vegetable Directory - Watch Your Garden Grow. When To Plant The old saying that "patience is a virtue" applies to gardeners who get the itch to garden when temperatures warm up in the spring.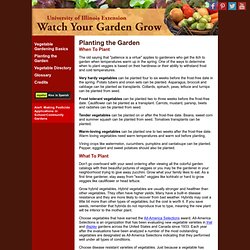 One of the ways to determine when to plant veggies is based on their hardiness or their ability to withstand frost and cold temperatures. Very hardy vegetables can be planted four to six weeks before the frost-free date in the spring. Planting a Garden. Vegetable Garden: Planning and Layout | Danny Lipford. Growing your own vegetables is both rewarding and healthy.
Growing vegetables can be a great way to save money, improve your diet, get exercise, and enjoy the outdoors. And the best part about vegetable gardening is that you can do as much or as little as you want – from one happy tomato plant to a row of squash that will have you sneaking baskets onto neighbors' porches in the dead of night. How to build My 50 Dollar Greenhouse. First off – you really can build this thing very cheaply, but to do so you have to recycle, freecycle, and scrounge.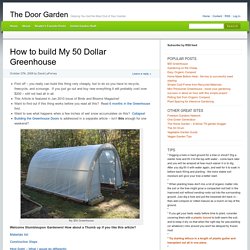 If you just go out and buy new everything it will probably cost over $200 – still not bad all in all.This Article is featured in Jan 2010 issue of Birds and Blooms Magazine! Want to find out if this thing works before you read all this? Read 6 months in the Greenhouse first.Want to see what happens when a few inches of wet snow accumulates on this?
Collapse! Building the Greenhouse Doors is addressed in a separate article – isn't this enough for one weekend?
---