Film_animation
Oedipe
Court métrage animation pixar gratuit 3d fiction documentaire captation ...
La phare
Monstera Deliciosa
Dodudindon
The switch
Sébastien
La migration bigouden
Pyrats
Lionel, un enfant de 6 ans
Monkey Movie
Inka Bola
Jelly Sunday
Fenrir
Mr Eustache
Lilium
Locazica
Le synopsis : Un vieil homme vît en haut de sa maison perché, il part à la pêche où il découvre de biens étranges objets qui ne demandent qu'à être assemblé pour lui offrir un merveilleux cadeau.. Fiche technique du court métrage: Réalisateur: Alexis Fernandez
Dragonboy
Une petite fille
Veni Vidi Vici
Le synopsis : Un entraîneur est complètement désespéré face à la nullité de ses joueurs sur le terrain de Basket-Ball, il laisse alors le petit gros de l'équipe aller jouer.. Fiche technique du court métrage: Réalisateur: Damien CABALLERO, Pepe CANO, Carles CARRION, Victor PESQUERA, Cesc PUJOL, David RUBIO Pays: Espagne
The cup
The P-Jay
Cours toujours
L'ours Polaire et son marcheur ou vive la fitness
Le lapin et le savant fou
A la rencontre de Meline (Meet Meline)
Al dente!
Ah ou Pourquoi je n'aime pas la soupe aux vermicelles
Miam!
Hugh, le conte d'un vieux chaman indien
Conte d'hiver
Une taupe et des légumes!
La legende de la pierre qui tourne
Opéra Ta Ta Ta
Akryls
Le Faux Pli
Welcome to YouTube! The location filter shows you popular videos from the selected country or region on lists like Most Viewed and in search results.To change your location filter, please use the links in the footer at the bottom of the page. Click "OK" to accept this setting, or click "Cancel" to set your location filter to "Worldwide".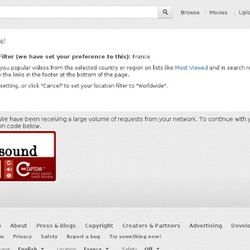 festival d'annecy