EFT
Emotioneel Wel-Zijn Techniek
EFT - angst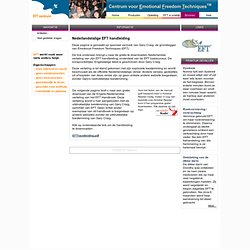 EFT Handleiding (nederlands)
Deze pagina is gemaakt op speciaal verzoek van Gary Craig, de grondlegger van Emotional Freedom Techniques (EFT). De link onderaan brengt u naar de gratis te downloaden Nederlandse vertaling van zijn EFT handleiding, onderdeel van de EFT basiscursus. De oorspronkelijke, Engelstalige tekst is geschreven door Gary Craig. Deze vertaling is tot stand gekomen met zijn expliciete toestemming en wordt beschouwd als de officiële Nederlandstalige versie. Andere versies, gedeeltes uit of kopieën van deze versie zijn op geen enkele andere website toegestaan, zonder Gary's nadrukkelijke toestemming.
69. The REAL CURE Faster EFT — Robert Smith the man of great wisdom.
EFT Tapping Create Abundance & Re-code Your Mind!
The Tapping Solution | Home