Cosmetic
Plication of the brachial fascia: an importan... [Aesthet Surg J. 2010
Both the aging process and postobesity deformities of the upper extremities are associated with lipodystrophy, loss of muscular mass, weakening of the fascia, and skin laxity. Many different surgical procedures have been described to correct these deformities, but most of them have limitations, particularly with respect to postsurgical scarring. The authors present a technique in which plication of the brachial fascia is performed before dermolipectomy in order to obtain greater flap advancement and limit tension on the final scars, thereby diminishing postoperative complications. From 1997 to 2007, the authors retrospectively followed 41 female patients who had undergone brachial dermolipectomy procedures associated with plication of the fascia on the internal aspect of the arm. This technique permitted greater advancement of the entire thickness of the flap, creating a better support for the flap with larger skin resection.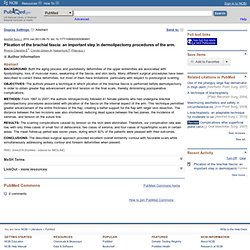 Masako Osako is a "bimajo" (beautiful witch), which, despite the odd ring of the phrase in English, is a compliment. According to the monthly magazine "Bisuto" (beast), it means a woman "over 35 with a radiance that gives no suggestion of their age." In a contest in autumn 2011, Osako was one of only 21 finalists chosen from over 2,000 entrants in a "bimajo contest" run by the magazine.
Plastic Surgery Costs informations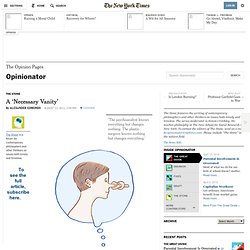 The Stone is a forum for contemporary philosophers and other thinkers on issues both timely and timeless. While living in Rio de Janeiro in 1999, I saw something that caught my attention: a television broadcast of a Carnival parade that paid homage to a plastic surgeon, Dr. Ivo Pitanguy. The doctor led the procession surrounded by samba dancers in feathers and bikinis. Over a thundering drum section and anarchic screech of a cuica, the singer praised Pitanguy for "awakening the self-esteem in each ego" with a "scalpel guided by heaven." 'The psychoanalyst knows everything but changes nothing.
A 'Philosophy' of Plastic Surgery in Brazil
BodyAesthetic surgeons are board-certified by the American Board of Plastic Surgery (ABPS) and members of the American Society of Plastic Surgeons (ASPS) and the American Society for Aesthetic Plastic Surgery (ASAPS). The physicians of BodyAesthetic Plastic Surgery & Skin Care Center are St. Louis plastic surgery specialists who perform an array of cosmetic surgery procedures for the face, breast and body. BodyAesthetic Plastic Surgery offers the latest cosmetic surgical techniques and non-surgical technologies that are regularly introduced in the rapidly-evolving field of plastic surgery. Yet BodyAesthetic distinguishes itself from other practices in the St. Louis area in several ways.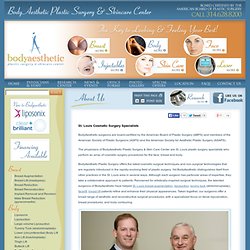 Plastic Surgery St. Louis - St. Louis Cosmetic Surgeons at BodyAesthetic
Wellness Awaken the Spirit Within: Ten Steps to Ignite Your Life & Fulfill Your... With a unique and refreshing blend of self-help, wisdom, and spiritual insight... Anti-Aging 7 Easy Tips for Beautiful Hair When it comes to your health, your hair may be the last thing on your mind. Flat Stomach - Fat Tummy - Sagging Breasts - Lip Augmentation - Beauty2morrow
Scar Revision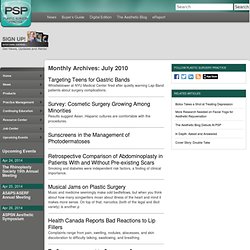 Whistleblower at NYU Medical Center fired after quietly warning Lap-Band patients about surgery complications. Results suggest Asian, Hispanic cultures are comfortable with the procedures. Smoking and diabetes were independent risk factors, a finding of clinical importance.
Sheeney7, a community member since 2012 Find the right cosmetic treatment. Find the right cosmetic treatment. Find reviews of over 250 cosmetic treatments. Research treatments Get personalized answers from medical experts.
RealSelf