Open Access et revues en ligne
Revues en ligne, catalogue
Open access to 906,675 e-prints in Physics, Mathematics, Computer Science, Quantitative Biology, Quantitative Finance and Statistics 7 Jan 2014: arXiv 2013 update See cumulative "What's New" pages. Read robots beware before attempting any automated download Physics Mathematics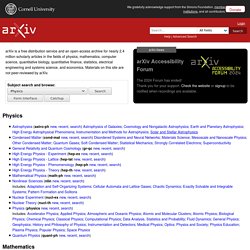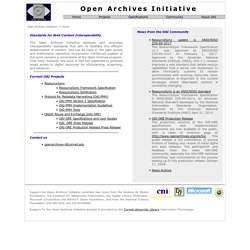 Standards for Web Content Interoperability The Open Archives Initiative develops and promotes interoperability standards that aim to facilitate the efficient dissemination of content. OAI has its roots in the open access and institutional repository movements.
DOAJ has migrated to a new, open source platform! Take a look around; we welcome your feedback. You may notice that the number of journals in DOAJ has dropped from 10 027 to 9804.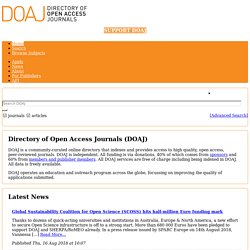 Loi aux États-Unis pour le Libre Accès Publié le 17 janvier 2014, par Thérèse HAMEAU Dans un communiqué, SPARC annonce que la loi de finances 2014 (FY 2014 Omnibus Appropriations Bill) inscrit le dépôt obligatoire des articles de chercheurs dépendant de certaines agences. Celles-ci doivent dépendre d'un des trois ministères — Travail, Santé ou Éducation — et leurs financements dépasser le million de dollars annuel.