Chrome_addons
Python Cloud IDE | Python Fiddle. Writer: the internet typewriter. Just write.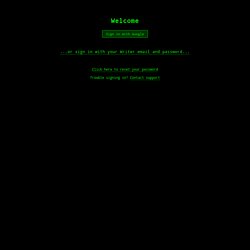 Writer will take care of saving your work automatically every few minutes, when you start a new document, and when you open a different document. Important! Writer remembers you by placing a cookie on your computer. Kodingen - The Cloud Development Environment, Online Code Editor, Cloud Hosting, Web based access to file-system, ftp & svn integration. 3DTin.
Lucidchart – Gemeinsam visualisieren.