Banking
Consumer Bankers Association (CBA) Home. OCC.gov Home Page. Failed Bank List. The FDIC is often appointed as receiver for failed banks.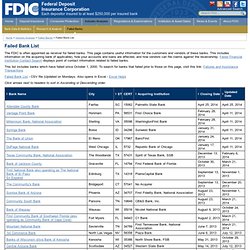 This page contains useful information for the customers and vendors of these banks. This includes information on the acquiring bank (if applicable), how your accounts and loans are affected, and how vendors can file claims against the receivership. Industry Analysis. Statistics and Historical Data. Conference Index. Featured Conference April 22-25, 2014Hilton Bonnet Creek, Orlando, FL Upcoming Conferences 26th Annual Card Forum & Expo April 22-25, 2014 Hilton Bonnet Creek, Orlando, FL 8th Annual Mortgage Servicing Conference April 23-25, 2014 The Westin Galleria, Dallas, TX.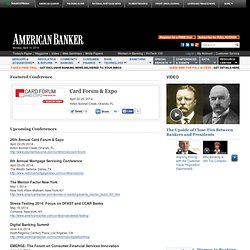 American Banker: The Financial Services Daily.
---