PROGRAMMING TOOLS
Get flash to fully experience Pearltrees
This is your guide to getting started with Windows PowerShell. Read through these pages to get familiar with Windows PowerShell, and soon you'll be driving around like a pro. On This Page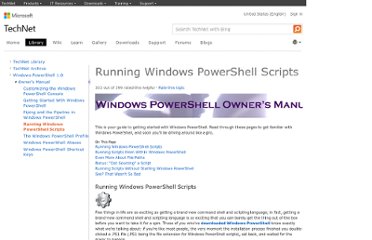 exchange management shell
If you've never programmed before, the tutorials on this page are recommended for you; they don't assume that you have previous experience. If you have programming experience, also check out the BeginnersGuide/Programmers page. After Hours Programming Python 3 Tutorial (Python 3) Beginning Python for Bioinformatics by Patrick O'Brien. An introduction to Python aimed at biologists that introduces the PyCrust shell and Python's basic data types. Byte of Python , by Swaroop C.H., is also an introductory text for people with no previous programming experience. (Python 2 and 3) Handbook of the Physics Computing Course Also available in various forms at the author's Python in Education page, this is a preliminary course handbook for 1st-year university students with no computing experience.
Python is a great object-oriented, interpreted, and interactive programming language. It is often compared (favorably of course ) to Lisp, Tcl, Perl, Ruby, C#, Visual Basic, Visual Fox Pro, Scheme or Java... and it's much more fun. Python combines remarkable power with very clear syntax.
Learn Python The Hard Way Take The Video Course For $29 Ruby | C | SQL | Regex | CLI Learn Python The Hard Way, 3rd Edition Welcome to the 3rd Edition of Learn Python the hard way.
Internet Relay Chat ( IRC ) is a protocol for live interactive Internet text messaging ( chat ) or synchronous conferencing . [ 1 ] It is mainly designed for group communication in discussion forums, called channels , [ 2 ] but also allows one-to-one communication via private message [ 3 ] as well as chat and data transfer , [ 4 ] including file sharing . [ 5 ] IRC was created in 1988. Client software is available for every major operating system that supports Internet access. [ 6 ] As of April 2011, the top 100 IRC networks served more than half a million users at a time, [ 7 ] with hundreds of thousands of channels [ 7 ] operating on a total of roughly 1,500 servers [ 7 ] out of roughly 3,200 servers worldwide. [ 8 ] [ edit ] History