Szani
Farts: Kid Uses Fart Machine In City Council Meeting, Government. Wooden Gear Clock Plans from Hawaii by Clayton Boyer. The Celestial Mechanical Calendar shows the day of the week, day of the month and the month.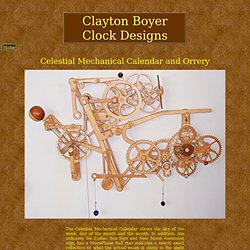 In addition, she indicates the Zodiac Sun Sign and New Moon Ascension sign, has a MoonPhase Ball that indicates a nearly exact reflection of what the actual moon is doing in the night sky. She also has a Full Moon Ascension Window, and an Orrery showing the synodic rotations of the three closest planets, Mercury, Venus and Mars and indicates when they go into retrograde. English Russia » Free Russian Subway. Breaking News: Circles Emanating from Red Dot - data visualizati. Creepy Google Maps (Sci-fi Video) Make a Super Bouncy Ball - Instructables - DIY, How To, kids, of. Saving the World One Tennis Ball at a Time. Both cleanly powered and built from 2 recycled bicycles, scrap steel and wood, leaking 5 gallon water jug and a lacross stick, our pedal powered tennis ball launcher was created as a unique entry for the innovate or die pedal powered machine contest.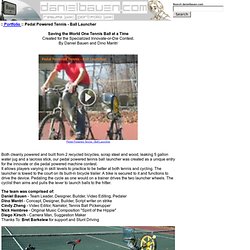 It allows players varying in skill levels to practice to be better at both tennis and cycling. The launcher is towed to the court on its built-in bicycle trailer. A bike is secured to it and functions to drive the device. Pedaling the cycle as one would on a trainer drives the two launcher wheels. Tanusha: FoodLand :) Смотрите какая красота!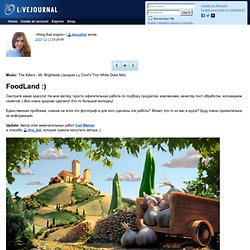 На мой взгляд, просто офигительная работа по подбору продуктов, компановке, качеству пост обработки, копозициям сюжетов :) Все очень здорово сделано! Кто-то большой молодец! Evil Mad Scientist Laboratories - Bristlebot: A tiny directional. The BristleBot is a simple and tiny robot with an agenda.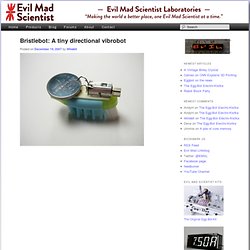 The ingredients? One toothbrush, a battery, and a pager motor. The result? Serious fun. 104 - Your Antipodes Most Likely Have Fins « strange maps. Imagine that you could drill .
Suspend your disbelief for a moment, ignoring the molten core that would fry you. Or that you would fall into the cavernous inside of the Hollow Earth . Where would you end up? In , the answer is quite simple(*): If the coordinates (longitude and latitude) of a point on the Earth's surface are (x, y), then the coordinates of the antipodal point can be written as (x ± 180°, −y). Random Salad » Blog Archive » How to Wipe Your Ass. Researchers Map The Sexual Network Of An Entire High School -- I. Rosemarie fiore. Sounds library now open to public online.
Calls of the wild: More than 80,000 sound and video recordings of animals now available to public online Provided Visitors to the Macaulay Library of Natural Sounds' Web site can listen to birds, such as this meadowlark, while watching a real-time spectrogram and waveform scroll across the screen.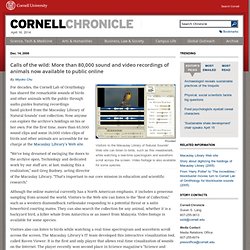 Video footage is also available for some species. For decades, the Cornell Lab of Ornithology has shared the remarkable sounds of birds and other animals with the public through audio guides featuring recordings hand-picked from the Macaulay Library of Natural Sounds' vast collection.
---