Statistics
World. Webmaster Tools - Webmaster Tools. 10 Promising Free Web Analytics Tools - Six Revisions. Web analytics is the process of gathering and analyzing your web content's data in order to glean meaningful information about how your site is being utilized by your users.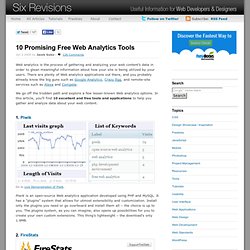 There are plenty of Web analytics applications out there, and you probably already know the big guns such as Google Analytics, Crazy Egg, and remote-site services such as Alexa and Compete. We go off the trodden path and explore a few lesser-known Web analytics options. Global Web Stats. 10 Free, Innovative Web Analytics Tools. When most people think of free web analytics, they immediately think of Google Analytics.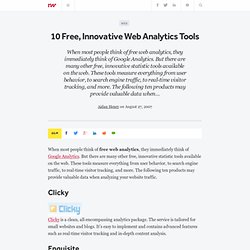 But there are many other free, innovative statistic tools available on the web. These tools measure everything from user behavior, to search engine traffic, to real-time visitor tracking, and more. The following ten products may provide valuable data when analyzing your website traffic. Clicky Clicky is a clean, all-encompassing analytics package.
Data Visualization: Modern Approaches. Advertisement Data presentation can be beautiful, elegant and descriptive.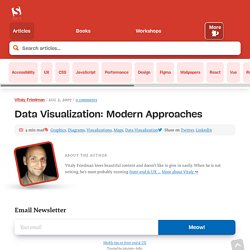 There is a variety of conventional ways to visualize data – tables, histograms, pie charts and bar graphs are being used every day, in every project and on every possible occasion. However, to convey a message to your readers effectively, sometimes you need more than just a simple pie chart of your results. In fact, there are much better, profound, creative and absolutely fascinating ways to visualize data. Xinu - Check quickly your PageRank, backlinks and much more. Tasty Data Goodies - Swivel. Homepage.
---