Scanner
I love books. There is some truly fantastic knowledge and information hidden out there in hard to find, rare, and not commercially viable books. I find that I want my books with me everywhere. But that's where the problems begin. Buying, moving, storing, and preserving books means environmental costs... and when I loan a book to a friend, I no longer have access to it. Digital books change the landscape .
DIY High-Speed Book Scanner from Trash and Cheap Cameras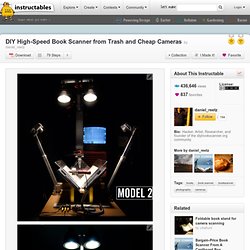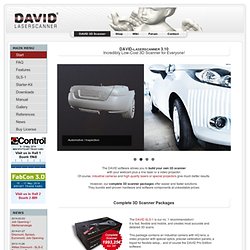 I'd like to see some results before buying or building anything! You will find some amazing results in our gallery. For laser scanning, you can download DAVID and use a test video file (choose Video Grabber) instead of a real camera, so you will have 3D data within a minute. More Questions? See FAQ (frequently asked questions) Gallery and User Gallery (with amazing 3D results) Downloads (software, example scans and test video) Shop (DAVID Scanner packages, cameras, lasers, and more) Manual (how to build and/or use your 3D scanner) Forum (exchange experiences with others) Wiki (tutorials and user impressions)
Welcome to www.volunteerlabrat.com. Breeder of hideous contrapti
Recycled Scanner Hack! - Instructables Cool How To & DIY [ca
ThemBid.com » Blog Archive » Do You Still Scan Photos With A Fla
Engauge Digitizer - Digitizing software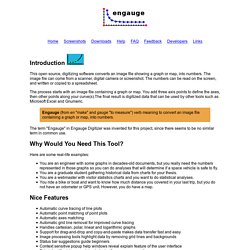 Introduction This open source, digitizing software converts an image file showing a graph or map, into numbers. The image file can come from a scanner, digital camera or screenshot. The numbers can be read on the screen, and written or copied to a spreadsheet.