Scanner
I love books. There is some truly fantastic knowledge and information hidden out there in hard to find, rare, and not commercially viable books. I find that I want my books with me everywhere. But that's where the problems begin. Buying, moving, storing, and preserving books means environmental costs... and when I loan a book to a friend, I no longer have access to it. Digital books change the landscape .
DIY High-Speed Book Scanner from Trash and Cheap Cameras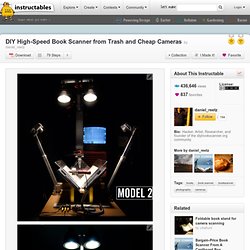 Welcome to www.volunteerlabrat.com. Breeder of hideous contrapti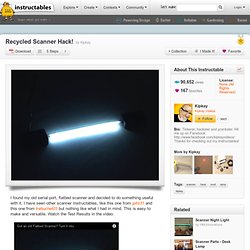 Recycled Scanner Hack! - Instructables Cool How To & DIY [ca
I found my old serial port, flatbed scanner and decided to do something useful with it. I have seen other scanner Instructables, like this one from jpitz31 and this one from trebuchet03 but nothing like what I had in mind. This is easy to make and versatile. Watch the Test Results in the video.
ThemBid.com » Blog Archive » Do You Still Scan Photos With A Fla
Engauge Digitizer - Digitizing software