productivity
Get flash to fully experience Pearltrees
I bought a Moleskine notebook a long time ago, and for a while it got zero use. My productivity system is totally digital and Web-based, as is my personal journal. I bought the Moleskine because it looked awesome, and because so many other people found it useful.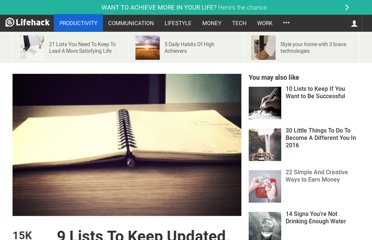 Despite what you may think, there are lifehacks to be learned from the television show Seinfeld. Take for example the episode "The Opposite"- George Costanza decides that every decision that he has ever made has been wrong, and that his life is the exact opposite of what it should be. George decides to do the opposite of everything he has done before, and great things begin to happen to him: What George inadvertently discovers is Victor Frankl's lifehack for overcoming fear and anxiety, called paradoxical intention .
Photo by Teo Every Monday is Productivity & Organization Day at Zen Habits. It's the ultimate quest of anyone trying to become more organized or productive: the ultimate organizing tool. And while that perfect tool may be different for each person, depending on your needs, the following list should have something perfect for just about anyone.
(If you're interested in Stikkit, you might also enjoy this handy little program I wrote to import your Gmail contacts into Stikkit , or maybe adding Stikkits directly from your desktop with WinStikker !) As most of my regular readers probably already know, I'm terribly impressed with Stikkit . Sure, it's a little rough around the edges, but my goodness is it ever slick. In a previous post, I described how bummed I was that Stikkit wasn't designed around GTD (selfish, selfish me). There has been a somewhat-active discussion around Stikkit + GTD in the Stikkit Forums , but it doesn't appear that they ever arrived at a solution. Any proposed solution involved a fundamental change to the software instead of a more creative approach.