OpenGL
OpenGL Programming Guide or 'The Red Book' About This Guide Chapter 1: Introduction to OpenGL Chapter 2: Drawing Geometric Objects Chapter 3: Viewing Chapter 4: Display Lists Chapter 5: Color Chapter 6: Lighting Chapter 7: Blending, Antialiasing, and Fog Chapter 8: Drawing Pixels, Bitmaps, Fonts, and Images Chapter 9: Texture Mapping Chapter 10: The Framebuffer Chapter 11: Evaluators and NURBS Chapter 12: Selection and Feedback Chapter 13: Now That You Know Appendix A: Order of Operations Appendix B: OpenGL State Variables Appendix C: The OpenGL Utility Library Appendix D: The OpenGL Extension to the X Window System Appendix E: The OpenGL Programming Guide Auxiliary Library Appendix F: Calculating Normal Vectors Appendix G: Homogeneous Coordinates and Transformation Matrices Appendix H: Programming Tips Appendix I: OpenGL Invariance Appendix J: Color Plates Glossary (not included in this version) This easily downloadable version was compiled by UnreaL with help by AsKewl.
Multiple View Geometry in Computer Vision: Books: Richard Hartle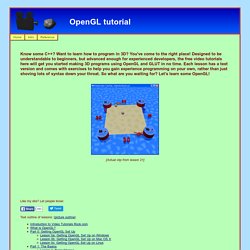 Know some C++? Want to learn how to program in 3D? You've come to the right place! Designed to be understandable to beginners, but advanced enough for experienced developers, the free video tutorials here will get you started making 3D programs using OpenGL and GLUT in no time. Each lesson has a text version and comes with exercises to help you gain experience programming on your own, rather than just shoving lots of syntax down your throat. So what are you waiting for?
OpenGL Video Tutorial - Home