cpp
Get flash to fully experience Pearltrees
Note: Because BoostPro is closing its doors , we have discontinued our support of these free installers, but we have donated the installer source code to the community. The Boost community is currently looking for volunteers to carry forward the job of building installers. If you'd like to help, please post to the Boost Developer's Mailing List .
May 26, 2008 As we know iterators in C++ is a good but not perfect abstraction. Concept of foreach() (D, Python, Ruby, etc.) appears as more generic solution. At least foreach() does not require artificial iterator::end() to be defined for the collection. Abstraction foreach() can be imagined as some function/object that is returning next value of collection/sequence each time it is getting invoked.
Part of C++ FQA Lite This page summarizes the major defects of the C++ programming language (listing all minor quirks would take eternity). To be fair, some of the items by themselves could be design choices, not bugs. For example, a programming language doesn't have to provide garbage collection. It's the combination of the things that makes them all problematic.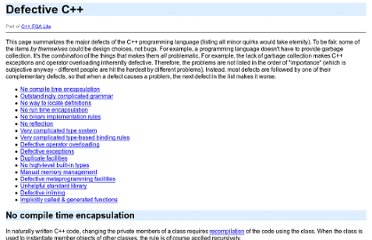 In this article, Scott Meyers describes a technique that enables the specification of arbitrary combinations of user-defined code features on a per-function basis and that detects violations of feature constraints during compilation. by Howard E. Hinnant, Bjarne Stroustrup, and Bronek Kozicki, March 10, 2008, 62 comments Rvalue references is a small technical extension to the C++ language.