Bookmarklet
Update: This article was written when Google Chrome browser didn't have any "extensions" or "addons." Nonetheless, the article below is useful not just for Chrome but also for Opera, Firefox, and Safari users. Use these browser bookmarklets by dragging-and-dropping on them on your browser's bookmark. Thanks to Pratyush who made this addon collection possible. In fact the entire credit goes to him.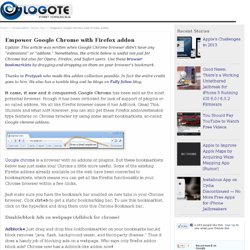 Google Chrome addon plugin with Firefox addon | Blogote - Intern Five years ago, under the screen name of 'MrGrim," University of Ohio undergrad Alan Schaaf uploaded a post to Reddit that would change the image-hosting market forever. He wrote in his post, "I got fed up with all the other image hosts out there so I made my own. It doesn't force you to compress your images, and it has neat things like crop, resize, rotate, and compression from 10-100. It's my gift to you. Let's not see anymore Imageshack/Photobucket around here." He named his gift to the community, Imgur (pronounced "imager.")
Summary By default, Internet Explorer is unable to increase font-sizes specified as pixels. Microsoft's proprietary zoom property can resize text regardless of the units, and also resize images. This article demonstrates the use of the proprietary zoom property to create a zoom bookmarklet to empower IE users.
Internet Explorer Zoom Bookmarklet