Shock Doctrine
According to bestselling author Naomi Klein, the systemic use of shock and fear by the power elites to undermine vulnerable communities is very much evident in post-bailout Greece. From the rise of racism to the sell-off of the country's oil and natural gas resources – much of what will shape Greece's immediate future are, she argues, predictable consequences of the politics of austerity Naomi Klein is the author of controversial New York Times bestseller The Shock Doctrine, which has been referred to as "the master narrative of our time". The book argues that business interests and powerful nations exploit shocks in the form of natural disasters, economic problems, or political turmoil, as an opportunity to aggressively restructure vulnerable countries' economies. She posits that because ultra-capitalistic policies are harmful to the majority of citizens, they cannot be implemented without a shock, ranging from media-hyped anxiety to police torture, that squashes popular resistance.
Is Greece in shock? | Society | Home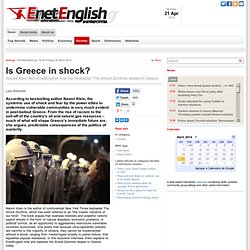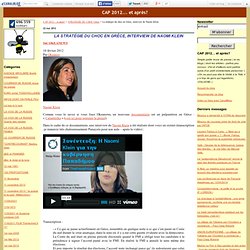 Comme vous le savez si vous lisez Okeanews, un nouveau documentaire est en préparation en Grèce : « Catastroïka » (voir ici pour soutenir le projet). Dans le cadre de ce documentaire, une interview de Naomi Klein a été réalisée dont voici un extrait (transcription -je remercie très chaleureusement Panayota pour son aide – après la vidéo) : Transcription : - « Ce qui se passe actuellement en Grèce, ressemble en quelque sorte à ce qui s'est passé en Corée du sud durant la crise asiatique, dans le sens où il y a eut cette guerre évidente avec la démocratie. La Corée du sud était en pleine période électorale quand le FMI a obligé tous les candidats à la présidence à signer l'accord passé avec le FMI.
La stratégie du choc en Grèce, interview de Naomi Klein
La stratégie du choc : la montée d'un capitalisme du désastre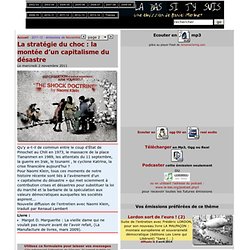 bonjour, un message de Nantes en luttes : A Nantes, hier, 3 novembre, manif aussi ... ! Le 31/10/2011 16:12, Thierry BRUGVIN a écrit : Des Indignés américains appellent à la grève générale
La stratégie du choc / Michael Winterbottom et Mat Whitecross, d'après Naomi Klein at Le silence qui parle
But Winterbottom's work, which is to be broadcast on More4 on 1 September, has led to such insurmountable creative tensions that Klein, who originally came on board to narrate the film and act as a consultant, does not appear in the credits as a writer or consultant, or act as its narrator. A source at Channel 4 said the writer was so disappointed with Winterbottom's vision of her book – which she reportedly felt did not carefully lay out the thesis or explain the economics but instead made unproven assertions – that she sought to distance herself from the film after seeing the early cuts. Klein, who is believed to have wanted more interviews and have less narration in the film, was not present at its premiere at the Berlin Film Festival earlier this year and does not mention the film on her website.
Not in my name: Klein disowns Winterbottom adaptation - TV & Rad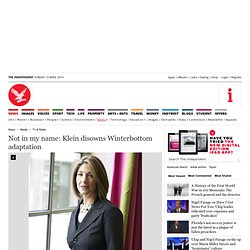 Clarification on "Shock Doctrine" Documentary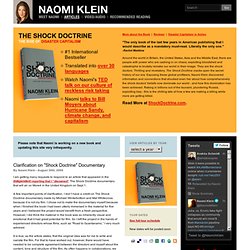 I am getting many requests to respond to an article that appeared in the Independent reporting that I "disowned" The Shock Doctrine documentary that will air on More4 in the United Kingdom on Sept 1.
Now that Washington has ruled out an immediate bailout for California, we know who will pay the ultimate price for the crisis born on Wall Street: the state's most vulnerable citizens.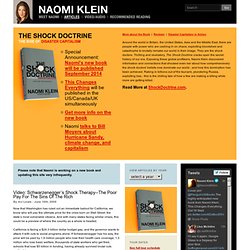 Video: Schwarzenegger's Shock Therapy--The Poor Pay For The Sins
Audit Faults New York Fed in A.I.G. Bailout
US & Canada - Bush officials lead Iraq business push
U.S. Adviser to Kurds Stands to Reap Oil Profits
Record numbers go hungry in households in the US | World news |
More than a million children regularly go to bed hungry in the US, according to a government report that shows a startling increase in the number of families struggling to put food on the table. President Barack Obama, who pledged to eradicate childhood hunger, has described as "unsettling" the agriculture department survey, which says 50 million people in the US – one in six of the population – were unable to afford to buy sufficient food to stay healthy at some point last year, in large part because of escalating unemployment or poorly paid jobs. That is a rise of more than one-third on the year before and the highest number since the survey began in 1995.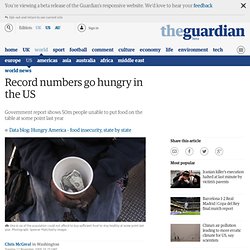 Aid Fueled Latest Surge on Wall Street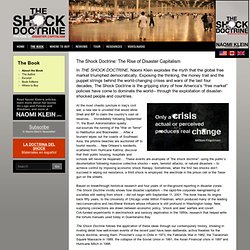 In THE SHOCK DOCTRINE, Naomi Klein explodes the myth that the global free market triumphed democratically. Exposing the thinking, the money trail and the puppet strings behind the world-changing crises and wars of the last four decades, The Shock Doctrine is the gripping story of how America's "free market" policies have come to dominate the world-- through the exploitation of disaster-shocked people and countries.
The Shock Doctrine: The Rise of Disaster Capitalism | Naomi Klei
I met Jamar Perry in September 2005, at the big Red Cross shelter in Baton Rouge, Louisiana. Dinner was being doled out by grinning young Scientologists, and he was standing in line.
The Shock Doctrine: An Excerpt From the Introduction | Naomi Kle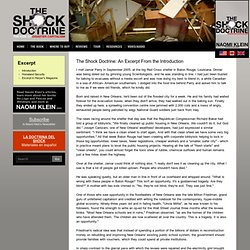 Naomi Klein - The Shock Doctrine - Part 2 of 6
Naomi Klein - The Shock Doctrine - Part 3 of 6
Naomi Klein - The Shock Doctrine - Part 4 of 6
Naomi Klein - The Shock Doctrine - Part 5 of 6
Naomi Klein - The Shock Doctrine - Part 6 of 6
Johan Norberg vs. Naomi Klein and The Shock Doctrine
Naomi Klein "The Shock Doctrine" & "No Logo" interview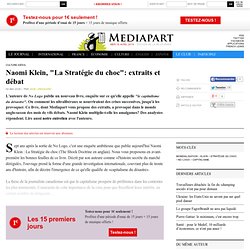 Sept ans après la sortie de No Logo, c'est une enquête ambitieuse que publie aujourd'hui Naomi Klein : La Stratégie du choc (The Shock Doctrine en anglais).
Naomi Klein, "La Stratégie du choc": extraits et débat | Mediapa
Naomi klein - la stratégie du choc
Readers of the The Shock Doctrine know that the Heritage Foundation has been one of the leading advocates of exploiting disasters to push through their unpopular pro-corporate policies. From this document, they're at it again, not even waiting one day to use the devastating earthquake in Haiti to push for their so-called reforms. The following quote was hastily yanked by the Heritage Foundation and replaced with a more diplomatic quote, but their first instinct is revealing:
Haiti Disaster Capitalism Alert: Stop Them Before They Shock Aga
Today, the United States began surveying the damage inflicted by a devastating earthquake in Haiti this week.
Things to Remember While Helping Haiti | The Foundry: Conservati
Analyse de la victoire Sebastián Piñera au second tour de l'élec
La coalition politique associant la démocratie chrétienne et les partis de centre gauche – Parti socialiste et Parti pour la démocratie, au pouvoir depuis le 11 mars 1990 - n'a pas réussi à imposer son candidat, l'ancien président démocrate-chrétien Eduardo Frei, défait avec 48, 3% lors du second tour de la présidentielle chilienne dimanche 17 janvier. Fruit de l'opposition à la junte militaire d'Augusto Pinochet, à l'origine de la défaite de la dictature lors du plébiscite d'octobre 1988, la Concertación était au pouvoir depuis vingt ans, majoritaire à toutes les élections, hormis aux élections municipales de 2008. Les résultats du premier tour, certes mauvais pour la Concertación avec 29,62 %, avaient néanmoins soulevé un mince espoir.
Depuis le succès de son livre No Logo, publié en 2000, Naomi klein est devenue une sorte d'icône de la lutte contre un « système mondialisé de prédation économique ». Elle décrit la mise en place méthodique et le fonctionnement brutal de ce système dans « La Stratégie du choc » (The Shock doctrine) paru en 2007. Un documentaire basé sur le best-seller de Naomi Klein a depuis vu le jour sous la direction de Michael Winterbottom et Mat Whitecross.
« La Stratégie du Choc » va encore frapper ! - AgoraVox le média
Ever since deregulation caused a worldwide economic meltdown in September '08 and everyone became a Keynesian again, it hasn't been easy to be a fanatical fan of the late economist Milton Friedman. So widely discredited is his brand of free-market fundamentalism that his followers have become increasingly desperate to claim ideological victories, however far-fetched. A particularly distasteful case in point.
Naomi Klein: Chile's Socialist Rebar