Love chemistry
la quimica del amor
¿Te ha pasado que cuando ves a una persona por primera vez, comienzas a sudar como nunca, tienes palpitaciones, tus manos tiemblan, te ruborizas, sientes ese cosquilleo en el estómago; se te va la onda, tartamudeas y comienzas a reirte de la nada?. Bueno pues esto indica nada más y nada menos que aquella persona que esta frente a ti es bioquimicamente tu media naranja.
La química en el amor
La Quimica del Amor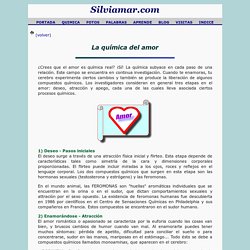 ¿Crees que el amor es química real?
La química del amor
Helen Fisher, Antropóloga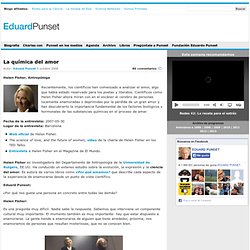 Online Books : "TIHKAL" - The Continuation" by Alexander and Ann Shulgin
phen-ethyl-amine \fen-'eth-al-a-,men\ n. [ phenyl fr. F. phène, fr. Gk. phainein, to show (from its occurrence in illuminating gas)+ ethyl ( + yl ) + amine fr.