Funny to Look At
25 Pictures Taken At Exactly The Right Moment. 25 Celebrities You Never Knew Were In Classic Movies (And Shows) Rate My Things that are difficult to say when you are drunk. The Most Brilliantly Obnoxious Responses To Moronic Graffiti. The greatest smart-ass responses to idiotic graffiti. posted 02/16/2013 Bathroom walls give opinionated urinators everywhere a makeshift, bacteria-covered forum for virulent racism, misogyny, homophobia and, worst of all, philosophy.
Of course, we'd never advocate one of these obscene acts of vandalism — unless it's a smart-ass response to a previous act of vandalism. Updated 11/29/11: Best of the Lame Pun Coon Meme (28 Pics) | Hipster Edits. Buy Seo service Addressing venture capitalists could be a significant concern that is fraught having risk and no benefit!
How to pick? If your store is aimed towards attracting more and more customers, subsequently seo and search engine optimization ( Seo & Search engine marketing techniques ) is actually something which you are unable to ignore. Things That Happen Only in Movies | SadAndUseless.com.
Inappropriate Weather Graphics [PIC] Friday Watch: All Dogs Go To Heaven . . . Rebel:art » Blog Archive » Watchlist: Phil Jones. Incredible Customer Service From Austin's Pizza Call Center | someecards.com. Tandem Story. Europe According to Stereotype | andrewcusack.com. A London-based graphic designer has created a series of maps depicting Europe according to the national stereotypes in the minds of various peoples.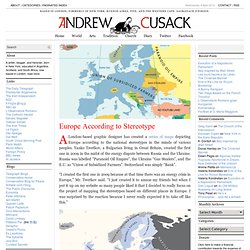 Yanko Tsvetkov, a Bulgarian living in Great Britain, created the first one in 2009 in the midst of the energy dispute between Russia and the Ukraine. Russia was labelled "Paranoid Oil Empire", the Ukraine "Gas Stealers", and the E.U. as "Union of Subsidized Farmers". Switzerland was simply "Bank". "I created the first one in 2009 because at that time there was an energy crisis in Europe," Mr. Ruined Wedding Photos | Email Junk. Face Swaps: Pics, Videos, Links, News. Asia - WTF pics. Deer loses head-butt with Wisconsin lawn ornament. By Bob Lamb La Crosse Tribune Posted: 11/10/2009 12:01:00 AM CST | Updated: 4 years ago This 640-pound concrete elk statue lies on its side in the backyard of Mark and Carol Brye s home in rural Viroqua.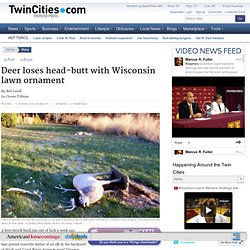 The dead buck lies about 20 feet away. (Courtesy Brye family via the LaCrosse Tribune) Gummi Bear Surgery. How to use bacon to make your life incredible and amazing - Recipe Star. Attach bacon to your hard drive.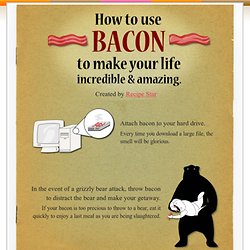 Every time you download a large file, the smell will be glorious. In the event of a grizzly bear attack, throw bacon to distract the bear and make your getaway. "If Movie Posters Told The Truth" list. The Most Badass Alphabet Ever | Sometimes I find things on the internet that leave me speechless with their awesomeness.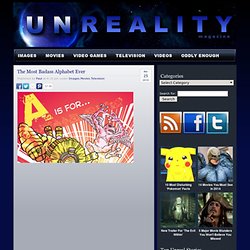 And considering it's my job to find crazy stuff all day long, that's actually saying something. But today I am bowing down to "The A-Z of Awesomeness," a series of illustrations by Neill Cameron, where he takes each letter of the alphabet, crafts an absurd sentence around it, then brings it to life with an excellent drawing as you can see above. There are 25 more epic letters to go, and you must check them all out below: The next level of Bad Names...Bad Signs! 11 Sexy Photos Totally Ruined By People in the Background.
There's some part of human nature that really makes us laugh when attempted sexiness crashes and burns.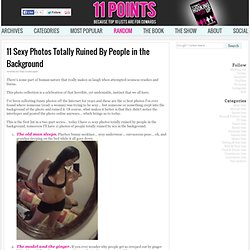 This photo collection is a celebration of that horrible, yet undeniable, instinct that we all have. I've been collecting funny photos off the Internet for years and these are the 11 best photos I've ever found where someone (read: a woman) was trying to be sexy... but someone or something crept into the background of the photo and ruined it. Of course, what makes it better is that they didn't notice the interloper and posted the photo online anyways... which brings us to today.
Never post your picture on the internet | 3113.com. If you like this page, you might also enjoy Why You Should Never Post Your Angry Baby's Picture On The Internet Or how about...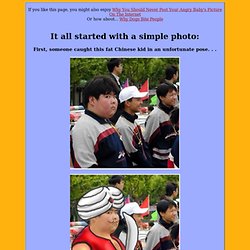 Why Dogs Bite People First, someone caught this fat Chinese kid in an unfortunate pose. . . Lol wut? Terry Border Makes Everyday Objects Come Alive (18 pics) Mail-Order Bride Artist Terry Border is one of those people who has a secret gift.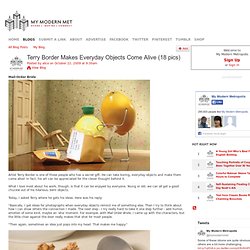 He can take boring, everyday objects and make them come alive! Hey, Cigs! | Masala Time. Www.creativecomponent.com/lighter-side/30-second-rule.html. Hacked STOP Signs (Photos) While it may be illegal to deface traffic signals for a variety of reasons (violent car crashes), these stop signs feature a clever line or cliché that includes the word stop.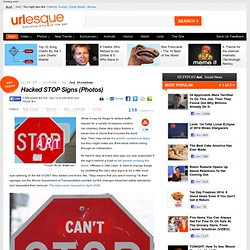 They may not be the world's coolest bus stops, but they might make you think twice before rolling through an intersection. It's hard to stop at every stop sign you see, especially if the sign's behind a bush or tall people crossing the street. Officials in Oak Lawn, IL tried to change things by modifying the city's stop signs to be a little more eye-catching. In the fall of 2007 they added one-liners like, "Stop means that you aren't moving.
" to their signage, but the Illinois Department of Transportation pointed out the changes breached safety standards and requested their removal.
---