2012 summer travel
National Express Buses Between Southampton and Central London, Heathrow and Gatwick Airports. National Express Coaches To/From Southampton National Express operate separate coach services from Southampton to Central London (Victoria), Heathrow Airport and Gatwick Airport.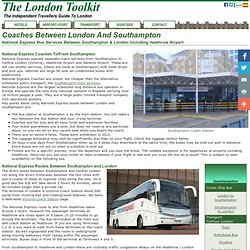 These are not van shuttle services, (there are none at Southampton) with hotel drops and pick-ups. Vehicles are large 50 seat air conditioned buses with washrooms. Low cost inter city bus and train travel throughout the UK. Train Services Between Southampton and Central London, Heathrow and Gatwick Airports. Southampton is around 80 miles (128 kms) from the centre of London.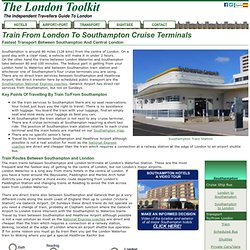 On a good day with a clear road, a vehicle will make it in under 2 hours. On the other hand the trains between London Waterloo and Southampton take between 80 and 100 minutes. The tedious part is getting from your London hotel to Waterloo and between Southampton train station and whichever one of Southampton's four cruise terminals you are using. There are no direct train services between Southampton and Heathrow Airport, the direct transfer here by scheduled public transport are the Southampton National Express coaches. Our Train Timetables | South West Trains. London Heathrow To / From Southampton Cruise Terminals By Bus, Train or Private Car. Its about 65 miles (105 kms) between Southampton to Heathrow Airport.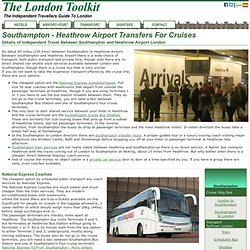 Between Southampton and Heathrow Airport there is a wide choice of transport, both public transport and private hire, though note there are no direct shared van shuttle style services available between London and Southampton, though there is a cruise bus that is very similar. If you do not want to take the expensive transport offered by the cruise line, these are your options: The cheapest option are the National Express scheduled buses. Full size 50 seat coaches with washrooms that depart from outside the passenger terminals at Heathrow, though if you are using Terminals 1 or 3 you have to use the bus station situated between them. They do not go to the cruise terminals, you will need a taxi between Southampton Bus Station and one of Southampton's four cruise terminals.
---