World Economic Datas
DbVisualizer - The Universal Database Tool
Finding and downloading economic data have never been this fast, simple or free! Dismal Scientist Relevant, easy-to-understand global economic information in real time "Fifteen minutes with Dismal saves you three hours..." Pete Gioia U.S.
Free Economic Data | Economic, Financial, and Demographic Data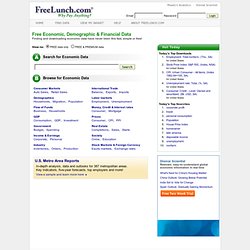 (189 countries, 1950-2007, 2005 as base year) The Penn World Table provides purchasing power parity and national income accounts converted to international prices for 189 countries for some or all of the years 1950-2007. The European Union or the OECD provide more detailed purchasing power and real product estimates for their countries and the World Bank makes current price estimates for most PWT countries at the GDP level.
Penn World Tables 6.3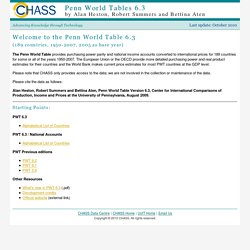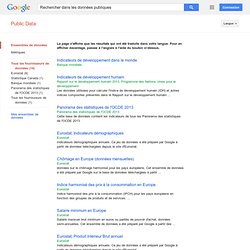 Indicateurs de développement humain Rapport sur le développement humain 2013, Programme des Nations Unies pour le développement Les données utilisées pour calculer l'Indice de développement humain (IDH) et autres indices composites présentés dans le Rapport sur le développement humain ... Eurostat, Indicateurs démographiques Eurostat
CIFP - Country Indicators for Foreign Policy
Publications and documents