Anthony de Mello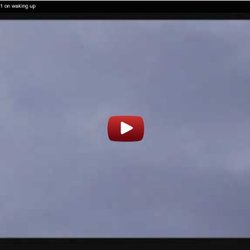 Anthony de Mello - Awareness pt.1 on waking up
This video is currently unavailable. Sorry, this video is not available on this device. Video player is too small. Normal quality speed
Anthony de Mello - Wake Up 1 (How to pray)
Anthony de Mello - Wake Up 2 (How to be real)
Anthony de Mello - Wake Up 3 (How to love)
Rediscovery of Life 1 on Vimeo
Rediscovery of Life 2 on Vimeo
Rediscovery of Life 3 on Vimeo
Rediscovery of Life 4 on Vimeo
Rediscovery of Life 5 (final) on Vimeo
Anthony de Mello Rediscovering Life Retreat full video
Anthony De Mello - Awareness Part 1
Anthony de Mello
This is what Wisdom means: To be changed without the slightest effort on your part, to be transformed, believe it or not, merely by waking to the reality that is not words, that lies beyond the reach of words. Spirituality means waking up. … all mystics — Catholic, Christian, non-Christian, no matter what their theology, no matter what their religion — are unanimous on one thing: that all is well, all is well. Though everything is a mess, all is well. The genius of a composer is found in the notes of his music; but analyzing the notes will not reveal his genius.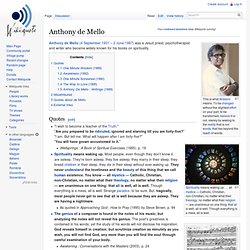 Dieu est là, dehors - Anthony De Mello, Ernest Richer - Google Books
Quand la conscience s'éveille - Anthony De Mello, Paule Pierre - Google Books
A lire Avis d'utilisateur - OLIVIER - Fnac Fini demain, fini hier, prenons pleinement conscience que nous existons maintenant. L'auteur tout en ponctuant sa reflexion sur des anecdotes ou des paraboles, nous expose toute la richesse qu'un homme peut gagner en eveillant son esprit.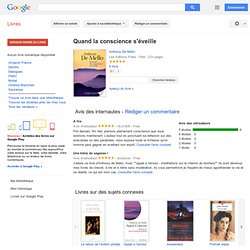 Aller vers Dieu - Anthony De Mello - Google Books
Sources spirituelles - Anthony De Mello - Google Books
Sadhana : un chemin vers Dieu - Anthony De Mello - Google Books