Courses
Learn Japanese the fun way | NihongoUp. Learn Japanese, learn katakana and the o-koto. Welcome to Genki Japan.net.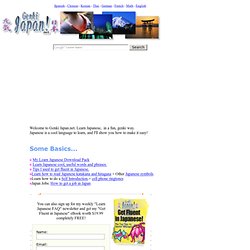 Learn Japanese, in a fun, genki way. Japanese is a cool language to learn, and I'll show you how to make it easy! Learn Japanese - Japanese Language. Learn Japanese. David Hallgren's Japanese Page. As the title of this page implies, my name is David Hallgren and this is my page about the japanese language.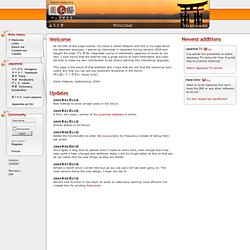 I gained an interested in Japanese during January 2004 and bought the book げんき An integrated course in elementary japanese to study on my own. I soon found that the internet was a great source of more information and soon decided to make my own contribution to aid others learning this interesting language. This page is the result of that ambition and I hope that you will find the resources here useful and that you can get you questions answered in the forum. がんばってください (Good luck!) David Hallgren, Gothenburg, 2004.
---