Weather Modification Links
H A A R P Project Bluebeam part 1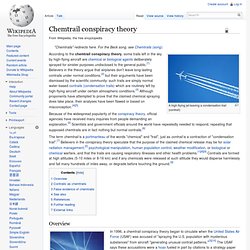 A high-flying jet leaving a condensation trail (contrail) The chemtrail conspiracy theory holds that some trails left by aircraft are chemical or biological agents deliberately sprayed at high altitudes for purposes undisclosed to the general public in clandestine programs directed by various government officials. [ 1 ] This theory is not accepted by the scientific community, which states that they are just normal contrails , as there is no scientific evidence supporting the chemtrail theory.
North American Interstate Weather Modification Council
Chemtrails 911 - Exposing aerial crimes and aerosol operations,because it's an emergency!