Hair
24 Statement Hairstyles For The Holiday Party Season. How To: Hair Bow. A few weeks ago I posted a picture of a hair bow I did on a bride.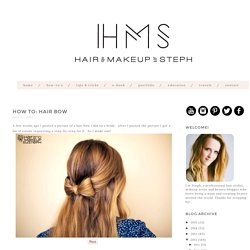 After I posted the picture I got a lot of emails requesting a step-by-step for it. So I made one! 1. 25 Totally Pretty 10-Minute Hairstyles. By Jaime Morrison Curtis | If there is anything that gets abandoned in the morning it would have be my hair, and more often than not a hat or ponytail has become the solution to this problem.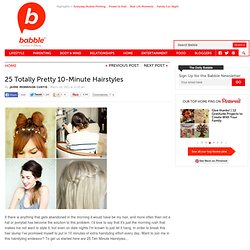 I'd love to say that it's just the morning rush that makes me not want to style it, but even on date nights I'm known to just let it hang. In order to break this hair slump I've promised myself to put in 10 minutes of extra hairstyling effort every day. Want to join me in this hairstyling endeavor? Tag Archive for "wedding hairstyles" - The Beauty Department: Your Daily Dose of Pretty. Photo/post/graphic design: Kristin Ess One of my all time favorite hairstyles for a wedding or for red carpet is the most super simple chic chignon (say that 3 times fast!).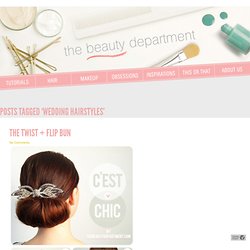 In this tutorial we show future brides and bridesmaids alike how to keep their hair out of the way while maintaining a timeless, classic look for any event. This is one of those updos that really allows you to focus on the dress, accessories and overall beauty instead of being a major focal point. How-To: Instant Hairstyles- Do Yourself. Photo 40- You Totally Got This: 4 Easy Braids For Rookies. Feb 24, 2014 Even if you've landed your dream job and work in the coolest office ever, it's easy to fall into the business-as-usual rut when it comes to your beauty routine.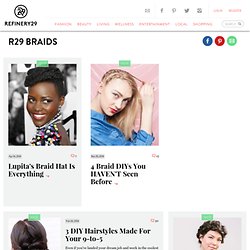 There isn't anything wrong with alternating…read. Hairy Situation.
---