Food
Jamie Oliver | Official site for recipes, books, tv, restaurants and food revolution
Closet Cooking
Chez Us » She cooks. He devours.
Italian Food Forever
Things to Grill in Foil : Recipes and Cooking
Party Food
recipes, recipe site, cooking tips, food preparation, kitchen charts
100 Ways to Cook…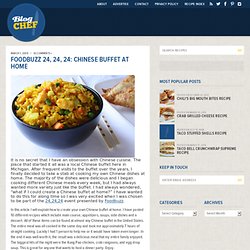 Foodbuzz 24, 24, 24: Chinese Buffet at Home
It is no secret that I have an obsession with Chinese cuisine. The place that started it all was a local Chinese buffet here in Michigan. After frequent visits to the buffet over the years, I finally decided to take a stab at cooking my own Chinese dishes at home.
The best new recipes from The Kitchn | punchfork.com