Crafts
Duo Fiberworks - Duo Fiberworks - Tutorial: Rustic Leather Sketchbook. We're going to be posting tutorials for stocking stuffer gifts for children every day this week.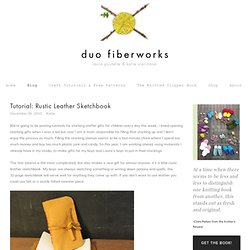 I loved opening stocking gifts when I was a kid but now I am a mom responsible for filling that stocking up and I don't enjoy the process as much. Filling the stocking always seems to be a last-minute chore where I spend too much money and buy too much plastic junk and candy. So this year, I am working ahead, using materials I already have in my studio, to make gifts for my boys and Laura's boys to put in their stockings. This first tutorial is the most complicated, but also makes a nice gift for almost anyone- it's a little rustic leather sketchbook. 3D animated origami instructions to make a peace crane, flapping bird, and football shirt.
Geek Living Daily 120502 | Geeky Design | Geeky Gift Ideas. This post is part of our daily blog that shows our collection of geeky home living products or designs.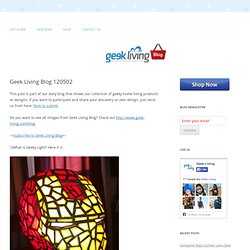 If you want to participate and share your discovery or own design, just send us from here: form to submit Do you want to see all images from Geek Living Blog? Check out. How To Mix Chalkboard Paint in Any Color. We love using chalkboards as backdrops for displays and parties (like this one here!).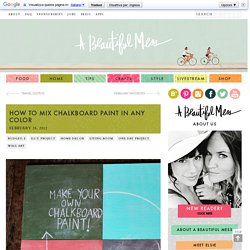 So we were super excited to learn that you can create your own custom colors-and it's really easy! We first learned how from Martha Stewart whose tutorial you can read here. Simple Ideas That Are Borderline Crafty (35 Pics)
Nice Stuffy
This to That (Glue Advice) Craftgawker | look to inspire. Accesories. House stuff. Water Balloon Luminaries. A fun and easy project with a beautiful payoff.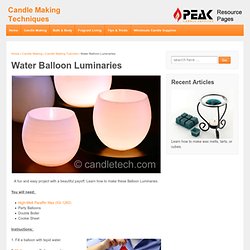 Learn how to make these Balloon Luminaries. You will need: High-Melt Paraffin Wax (IGI 1260)Party BalloonsDouble BoilerCookie Sheet Instructions: Clothes. Holder for Charging Cell Phone (made from lotion bottle) My husband and I both have cell phones.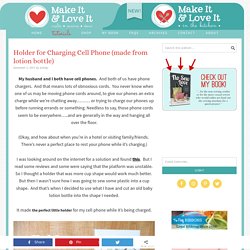 And both of us have phone chargers. And that means lots of obnoxious cords. You never know when one of us may be moving phone cords around, to give our phones an extra charge while we're chatting away……… or trying to charge our phones up before running errands or something. Needless to say, those phone cords seem to be everywhere…..and are generally in the way and hanging all over the floor.
---