Cupcakes
S'more Cupcakes Recipe at WomansDay.com- Dessert Recipes. 6 graham cracker boards (oblongs) 2 tablespoon(s) each sugar and melted butter 1/2 cup(s) mini semisweet chocolate chips 2 1/4 cup(s) all-purpose flour 1 1/2 cup(s) sugar 3/4 cup(s) unsweetened cocoa powder 3/4 teaspoon(s) baking soda 1/4 teaspoon(s) salt 1 1/4 cup(s) buttermilk 2 large eggs 1/2 cup(s) each canola oil and water 1 tablespoon(s) Tbsp vanilla extract 6 large egg whites 1 1/2 cup(s) sugar 1/2 teaspoon(s) cream of tartar 1 teaspoon(s) vanilla extract Small handheld butane torch Heat oven to 350ºF.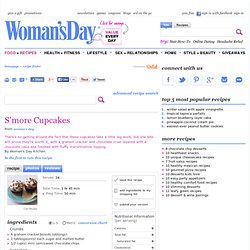 Line 24 muffin cups with paper liners. Process graham crackers in food processor until fine crumbs. Lemon-Honey Cupcakes Recipe at WomansDay.com- Dessert Recipes. Vanilla Bean Baby Doughnuts. Even though I've been a busy girl lately, I'm never too busy for a doughnut break!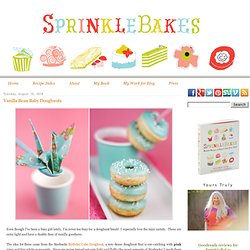 I especially love the mini variety. These are extra light and have a double dose of vanilla goodness. The idea for these came from the Starbucks Birthday Cake Doughnut, a very dense doughnut that is eye-catching with pink icing and tiny white nonpareils. Chocolate Chip Cookie Dough + Cupcake = The BEST Cupcake. Ever. Recipe - Al...
---