Securite
Proxy Sites – the Most Up-To-Date Proxy List on the Internet
Do you want to check whether your access provider is manipulating your internet traffic? Great! There are a lot of tools which make life easier for you. Here is a short selection. These tools are probably the most helpful when it comes to tracking traffic discrimination. These tools are interesting to test the overall quality of your Internet connections.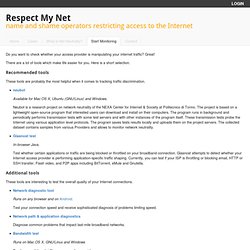 [!] Respect My Net
Guide pratique : Comment choisir ses mots de passe sur le net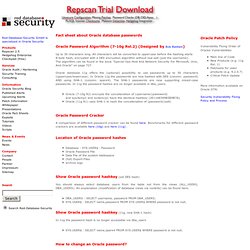 Fact sheet about Oracle database passwords Oracle Password Algorithm (7-10g Rel.2) (Designed by Bob Baldwin ) Up to 30 characters long. All characters will be converted to uppercase before the hashing starts 8-byte hash, encrypted with a DES encryption algorithm without real salt (just the username). The algorithm can be found in the book "Special Ops Host And Network Security For Microsoft, Unix, And Oracle" on page 727.
Oracle Passwords
Il y a 3 ans (déjà !), je vous avais proposé un petit billet dans lequel j'expliquais comment sauver une carte graphique en la mettant à chauffer dans un four . Cette astuce m'avait permis de sauver l'ordinateur portable d'un ami (Acer 1520) qui présentait de gros bugs d'affichage . L'intervention de fortune avait réussi à prolonger la vie de l'appareil de quelques mois.
Astuces | EspaceRezo - Part 4