To watch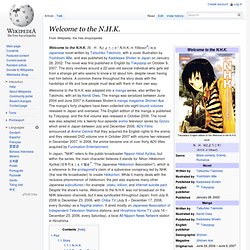 Welcome to the N.H.K. ( N・H・Kにようこそ! , N.H.K. ni Yōkoso!
Welcome to the N.H.K.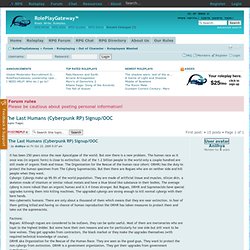 The Last Humans (Cyberpunk RP) Signup/OOC : Roleplayers Wanted
It has been 250 years since the near Apocalypse of the world. But now there is a new problem. The human race as it once was (in organic form) is close to extinction. Out of the 1.2 billion people in the world only a couple hundred are still made of organic flesh and tissue. The Organization for the Rescue of the human race (short: ORHR) has the duty to protect the human specimen from The Cyborg Supremacists.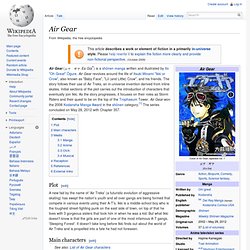 Air Gear ( エア・ギア , Ea Gia ? ) is a shōnen manga written and illustrated by Ito "Oh Great" Ōgure . Air Gear revolves around the life of Itsuki Minami "Ikki or Crow" , also known as "Baby Face", "Lil (and Little) Crow", and his friends. The story follows their use of Air Treks, an in-universe invention derived from inline skates. Initial sections of the plot carries out the introduction of characters that eventually join Ikki. As the story progresses, it focuses on their roles as Storm Riders and their quest to be on the top of the Trophaeum Tower.
Air Gear
Vampire Knight ( ヴァンパイア騎士 , Vanpaia Naito ? ) is a shōjo manga series written by Matsuri Hino . The series premiered in the January 2005 issue of LaLa magazine and is still on-going. Chapters are collected and published in collected volumes by Hakusensha , with seventeen volumes currently released in Japan. The manga series is licensed in English by Viz Media , who has released fifteen volumes so far.
Vampire Knight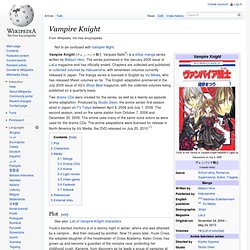 Bakumatsu Kikansetsu Irohanihoheto
ghost hunt anime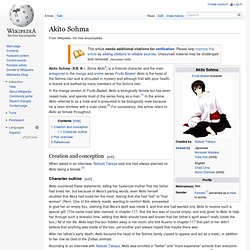 Akito Sohma ( 草摩 慊人 , Sōma Akito ? ) is a fictional character and the main antagonist in the manga and anime series Fruits Basket . Akito is the head of the Sohma clan and is shrouded in mystery and although frail with poor health, is feared and loathed by many members of the Sohma clan. In the manga version of Fruits Basket , Akito is biologically female but has been raised male, and spends most of the series living as a man. [ 1 ] In the anime, Akito referred to as a male and is presumed to be biologically male because he is seen shirtless with a male chest. [ 2 ] For consistency, this article refers to Akito as female throughout. [ edit ] Creation and conception
Akito Sohma
Darker than Black , known in Japan as Darker than Black: Kuro no Keiyakusha ( DARKER THAN BLACK -黒の契約者- , Dākā Zan Burakku -Kuro no Keiyakusha- ? , literally " Darker than Black: The Black Contractor ") , is an anime television series created, directed and written by Tensai Okamura and animated by Bones . It premiered across Japan from April 5, 2007 on MBS , TBS , and its affiliated broadcast stations , with its satellite television premiere in Japan on Animax in May 2007. The music for the series is composed by Yoko Kanno .
Darker than Black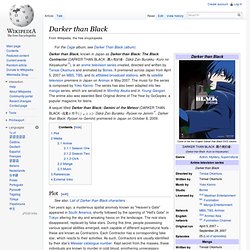 rioplats's Anime List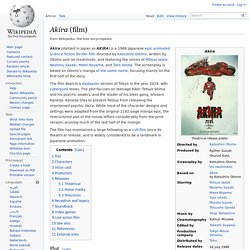 Akira (film)
Akira ( アキラ ? , [akiɽa] ) is a 1988 Japanese animated cyberpunk action film directed by Katsuhiro Otomo , written by Otomo and Izo Hashimoto, and featuring the voices of Mitsuo Iwata , Nozomu Sasaki , Mami Koyama and Taro Ishida . The screenplay is based on Otomo's manga Akira , focusing mainly on the first half of the story. The film depicts a dystopian version of the city of Tokyo in the year 2019, with cyberpunk tones. The plot focuses on teenage biker Tetsuo Shima (Nozomu Sasaki) and his psychic powers, and the leader of his biker gang, Shotaro Kaneda (Mitsuo Iwata).