Enseñando matematicas / teaching maths
¿Ese que está junto a Pitágoras es el pato Donald? Las cosas ya se hacían bien en la década de los 50.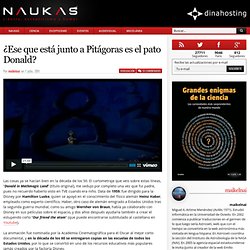 El cortometraje que veis sobre estas líneas, "Donald in Mathmagic Land" (título original), me sedujo por completo una vez que fui padre, pues no recuerdo haberlo visto en TVE cuando era niño. Data de 1959, fue dirigido para la Disney por Hamilton Luske, quien se apoyó en el conocimiento del físico alemán Heinz Haber, empleado como experto científico. Haber, otro caso de alemán emigrado a Estados Unidos tras la segunda guerra mundial, como su amigo Wernher von Braun, había ya colaborado con Disney en sus películas sobre el espacio, y dos años después ayudaría también a crear el estupendo corto "Our friend the atom" (que puede encontrarse subtitulado al castellano en Youtube). Dan Meyer: Math class needs a makeover.
Conrad Wolfram: Teaching kids real math with computers. Arthur Benjamin's formula for changing math education.
---