Clothes/Crafts
after waiting way too long for my flat tire to be fixed just now, i am glad to be back inside the air conditioning to tell u guys about my newest development - vintage dictionary prints! a while back, i came across this falling apart dictionary in the bin of a book giveaway and had a little eureka moment. i'm starting a whole line of prints done on these gorgeously aged pages. this book would have been taking up space in a landfill, and the amazing history on these pages would have been lost. but now , this book is being repurposed into one of a kind pieces of art! you can check out the first of the series over on etsy - august printed on a vintage book page - and there are going to be many more titles to come.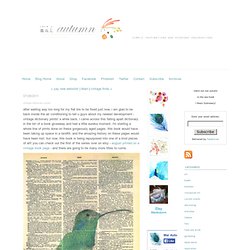 vintage dictionary prints - Mai Autumn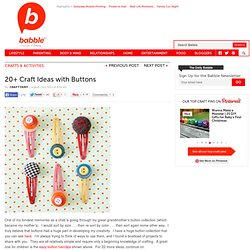 For the Love of Buttons | The New Home Ec
One of my fondest memories as a child is going through my great-grandmother's button collection (which became my mother's). I would sort by size . . . then re-sort by color . . . then sort again some other way. I truly believe that buttons had a huge part in developing my creativity. I have a huge button collection that you can see here . I'm always trying to think of ways to use them, and I found a boatload of projects to share with you.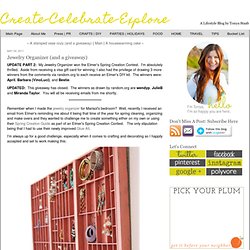 UPDATE PART 2: My Jewelry Organizer won the Elmer's Spring Creation Contest. I'm absolutely thrilled. Aside from receiving a visa gift card for winning, I also had the privilege of drawing 3 more winners from the comments via random.org to each receive an Elmer's DIY kit. The winners were: April , Barbara (VinoLuci) , and Bestie . UPDATED: This giveaway has closed.
21 Ideas for Spray Painting on a Budget | The New Home Ec
I'm addicted to spray paint — I have about a billion cans of it left over from large and no-so-large projects, and it needs a place to go. More accurately, it needs a project to go on . I was searching for some budget spray paint ideas recently and was happy to discover that there are a TON to be found! Since I've got a lot of spray paint in a variety of colors, I found some ideas that can be done in a variety of ways. As an added bonus, I've found Becky Higgins' Spray Painting Tips — very helpful if you're a newbie spray painter (or just want a refresher). Alas, here's a roundup of the best spray painting crafts I've found around the web …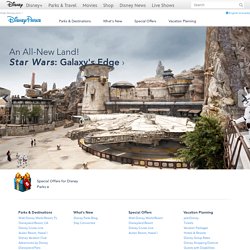 Try as I might, I cannot seem to grasp even the most basic of feminine beauty rituals. I'm constantly struggling to master rudimentary hair and makeup techniques, and my one-time foray into the "subtle" art of perfume left everyone in the room with burning nostrils. This DIY solid perfume locket from artisanal perfumer Mandy Aftel is something I can definitely stand behind, though. Mandy only uses pure and natural ingredients to create her perfumes, and this solid scent can be easily applied with no risk of over-dousing. The old pocket watch appeals to my tomboy side, and I love its versatility; you can wear it as a necklace or pin, or simply tuck it into your pocket or purse. I can't wait to make one and give my feminine sensibilities a little boost :) Thanks for sharing this tutorial with us, Mandy!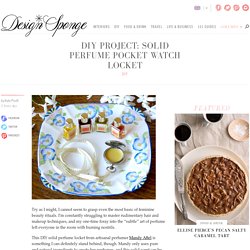 Halloween Craft #1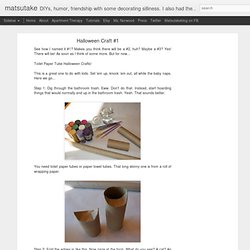 See how I named it #1? Makes you think there will be a #2, huh? Maybe a #3? Yes!
DIY $5 Flower Vase! |
So, I finally just changed all the burnt out light bulbs in my house.
While hunting through Deviantart.com I found a very clever body paint artist, Viridis-Somnio . She has been extremely creative with her lipstick application and painted her lips to resemble some animals in a very unique way. It certainly doesn't hurt that she has a killer set of lips to work with and her attention to detail is nothing to stick your tongue out at. Don't give this art the kiss off, come and get a taste of her lipstick artwork. We look forward to seeing more of her art, whether it is on her luscious lips , other body parts or whatever.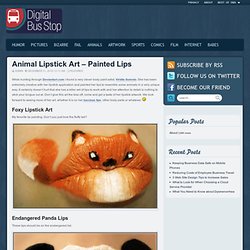 Animal Lipstick Art – Painted Lips