OrientDB
Orient Technologies - Open source solutions built around the Orient DB
This project has been moved on December 10th 2012 to GitHub: https://github.com/nuvolabase/orientdb
Main - orient - Main WIKI page - NoSQL document database light, portable and fast. Supports ACID Tx, Indexes, asynch queries, SQL layer, clustering, etc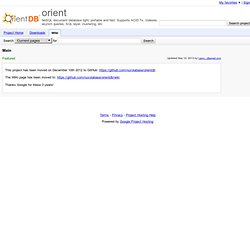 To use the Document Database interface you must include these jars in your classpath: orient - commons -*. jar orientdb - core -*. jar
DocumentDatabase - orient - Document Database usage through Java APIs - NoSQL document database light, portable and fast. Supports ACID Tx, Indexes, asynch queries, SQL layer, clustering, etc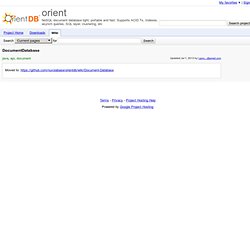 Note: The object database has been refactored since the release 1.0. If you use the previous one look at: Old Implementation ODatabaseObjectTx . To use the Object Database interface you must include these jars in your classpath:
ObjectDatabase - orient - Object Database usage through Java APIs - NoSQL document database light, portable and fast. Supports ACID Tx, Indexes, asynch queries, SQL layer, clustering, etc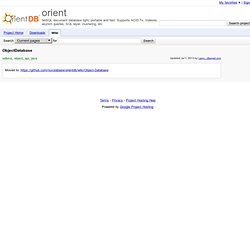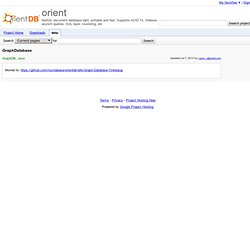 OrientDB is a Document-Graph DBMS because has the features of both Document DBMS and Graph DBMS.
GraphDatabase - orient - Graph Database - NoSQL document database light, portable and fast. Supports ACID Tx, Indexes, asynch queries, SQL layer, clustering, etc